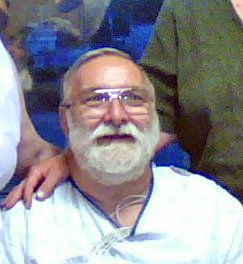 Michael James Buckman
Ticonderoga
March 4, 1947 - November 19, 2011
March 4, 1947-Nov. 19, 2011
Michael James Buckman, 64, of Ticonderoga, passed away on Saturday, Nov. 19, 2011, at the Albany Medical Center Hospital.
Born in Kingston, March 4, 1947, he was the son of the late Alvin Joseph and Constance Elizabeth (Bly) Buckman.
Mr. Buckman was a veteran of the U.S. Army having served in Korea during the Vietnam War.
Michael lived in Ticonderoga for most of his life and was a graduate of Ticonderoga High School.
He was employed by the International Paper Company of Ticonderoga for 30 years. Throughout his working career, Mr. Buckman was also employed by several other businesses including St. Joseph's Rehabilitation Center of Ticonderoga, McDonald's Restaurant of Ticonderoga, Job Corp of Vergennes, Vt., and Ace Courier of Glens Falls.
Mr. Buckman was a member of the Benevolent & Protective Order of Elks # 1494 of Ticonderoga and was an avid bowler. Michael took pride in assisting the Junior Miss Program of Ticonderoga as the artist for their background designs for many years.
Michael was affectionately know to his grandchildren as "Pa Pa."
He was pre-deceased by one son, Jerrad Michael Buckman, one sister, Bernice Bailey, and one brother, Alvin Joseph Buckman.
Survivors include his wife of 41 years, Paula Anne (Rovelli) Buckman; three children, Michelle (Robert) Shufelt of Glens Falls, Allison Hammond of Virginia, and Eric Daniel Buckman (Kimberly Burgey) of Ticonderoga; three sisters, Muriel "Liz" (Ed) Belden, Marcelle "Marcie" (Dean) Frasier, and Thomasine "Tammy" (Timothy) Bush, all of Ticonderoga; five grandchildren, Marissa Mae Keast, Jacob Henry Keast, Lillie Anne Rose Shufelt, his expected grandson to be, Hunter Jerrad Michael Shufelt, and Michael Newell Hammond. He is also survived by many nieces and nephews, and his Finnish son, Kimmo Kiiski of Finland and his family.
Relatives and friends called Tuesday, Nov. 22, from 2 to 4 p.m. at the Wilcox & Regan Funeral Home, 11 Algonkin St., Ticonderoga.
A funeral service followed at 4 p.m. on Tuesday at the funeral home. The Rev. Kevin D. McEwan, pastor of St. Mary's Catholic Church of Ticonderoga, officiated.
The Rite of Committal will take place at the family plot of St. Mary's Parish Cemetery of Ticonderoga at a later date.
Donations in Michael's memory may be made to St. Jude's Children's Research Hospital, 125 Wolf Road, Suite 225, Albany 12205.