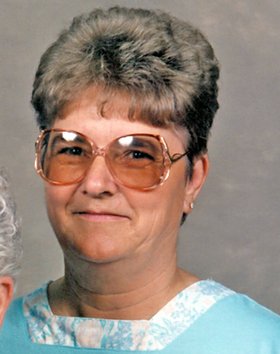 Carol Ann Alteri
Ticonderoga
August 28, 1941 - November 25, 2011
Aug. 28, 1941-Nov. 25, 2011
Carol Ann Alteri, 70, of Ticonderoga, passed away on Friday, Nov. 25, 2011, at her residence.
Born in Ticonderoga, Aug. 28, 1941, she was the daughter of the late John M. and Geraldine R. (DuRoss) LaTour.
Carol was a resident of Ticonderoga for most of her life and was a graduate of Ticonderoga High School. She was a majorette for the Ticonderoga Drum and Bugle Corps.
Carol was a lifelong communicant of St. Mary's Catholic Church of Ticonderoga, a former member of the church choir, and a member of the former Angel Sodality Society.
She was employed by the town of Ticonderoga as clerk to the assessor and to the code enforcement officer. Throughout her career, she was also employed as a secretary for Dr. Vilardo, Dr. Schuler and Dr. Sayers, and as an admissions clerk for the Moses-Ludington Hospital of Ticonderoga.
Carol was active in many local organizations. She was a charter member of the Ladies Auxiliary of the Ticonderoga Fire Department for over 30 years, a member of the Fourth of July Committee of Ticonderoga and also served as an election inspector.
She was pre-deceased by her first husband, Charles Perkins, Sr., a New York State Trooper who died in the line of duty; and by her son, Charles Perkins, Jr., also a New York State Trooper who died under tragic circumstances. In addition to her parents, she was also pre-deceased by her maternal grandparents, Roy and Florence DuRoss and her paternal grandparents, Lucius and Elizabeth LaTour.
Survivors include her son, Michael E. Alteri of Ticonderoga; her daughter, Janine M. Belden and her husband, William of Fort Edward; four grandchildren, Kahley Alteri, Rebecca Belden, Marc Perkins and Adam Perkins; two sisters, Linda Drinkwine and her husband, Ronald, and Karen Palmer and her husband, Milford (Buzz), all of Ticonderoga; two brothers, Richard LaTour and his wife, Nancy, and Gary LaTour, all of Ticonderoga; and many nieces and nephews. She is also survived by Eugene Alteri, Jr. of Ticonderoga, who was always there for her.
Relatives and friends called Wednesday, Nov. 30, 2011, from 2 to 5 p.m. at the Wilcox & Regan Funeral Home, 11 Algonkin St., Ticonderoga.
A Mass of Christian Burial was celebrated on Thursday, Dec. 1, 2011, at 10 a.m. at St. Mary's Catholic Church of Ticonderoga. The Rev. Kevin D. McEwan, pastor, officiated.
The Rite of Committal followed at the family plot of St. Mary's Parish Cemetery of Ticonderoga.
Donations in Carol's memory may be made to the Ticonderoga Fire Department Ladies Auxiliary, Montcalm St., Ticonderoga, NY 12883 or the C.R. Wood Cancer Center, 100 Park St., Glens Falls, NY 12801.