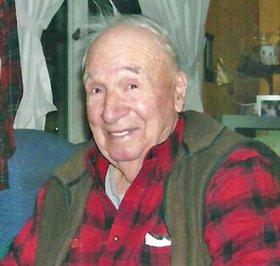 Anthony J. DeFranco
Hague
December 8, 1915 - October 27, 2011
Dec. 8, 1915-Oct. 27, 2011
HAGUE — Anthony J. DeFranco, 95 of Hague, passed away on Thursday, Oct. 27, 2011 at the Moses-Ludington Hospital of Ticonderoga.
Born in Staten Island, Dec. 8, 1915, he was the son of the late Anthony and Theresa (Pelagrini) DeFranco.
Mr. DeFranco was a veteran of the U.S. Army, having served during WW II under General Patton.
He was employed by Local 2 Plumbers Union of Manhattan for many years. His last plumbing job, prior to his retirement, was at the World Trade Center, where he was employed for eight years.
He lived in Smithtown, N.Y., for many years, where he was a volunteer firefighter.
Mr. DeFranco has been a Hague resident since 1973.
He was an avid fisherman. After fishing for many years on Montauk, Long Island, he became an avid fresh water fisherman on Lake George, where he enjoyed fishing for trophy lake trout and salmon.
He was pre-deceased by his daughter, Judy Cusumano.
Survivors include his wife, Emma (Joergens) DeFranco; one son, David A. DeFranco and his wife, JoAnne of Hague; and three daughters, Theresa Awgul and her husband, Greg of Philadelphia, Mary Towers and her husband, Tim of Queensbury, and Kathy DeFranco of Queensbury. He is also survived by 10 grandchildren, many great-grandchildren, and several nieces and nephews.
Relatives and friends called Monday, Nov. 7, from 6 to 8 p.m. at the Wilcox & Regan Funeral Home, 11 Algonkin St., Ticonderoga.
A Mass of Christian Burial was celebrated on Tuesday, Nov. 8, at 10 a.m. at St. Mary's Catholic Church of Ticonderoga. The Rev. Kevin D. McEwan, pastor, will officiate.
The Rite of Committal with Military Honors followed at the family plot of the Valley View Cemetery of Ticonderoga.
The family requests that in lieu of flowers, a donation in Mr. DeFranco's memory may be made to the Hague Fire Department, Hague 12836.