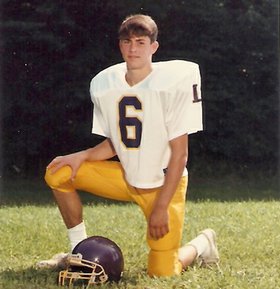 Robb J. Harris
Tampa, Fl.
December 24, 1974 - August 7, 2011
Dec. 24, 1974-Aug. 7, 2011
Robb J. Harris, 36, was rescued by God's Angels, during his sleep at home in Tampa, Fl., on Aug. 7, 2011. Was born at Letterman Army Hospital in San Francisco, Ca., on Dec. 24, 1974, weighing 9 pounds. His mother wasn't notified of his passing however, until Oct. 6, 2011, because Robb's father was too distraught from the news.
He is survived by his mother, Beverly(Baker) and her husband Gabby DeFelice of Port Henry, both formerly of Moriah; his father retired Navy Lt. Commander, William Harris, Jr. of Ca., formerly of Mineville; a sister Rebecca Harris & children of Il.; a half-sister Noelle (Wilson) Warren & husband Chris & son, Austin of Oh.; and his beloved Barbie and her daughter, Cassendra of Tampa, Fl. Numerous relatives on both sides and many, many friends.
Pre-deceased by his grandparents on mothers' side: Ross & Lillian (French) Baker of Moriah; great-grandparents William & Bessie(Fuller) Baker of Port Henry; and great-grandparents Charles & Amelia (Duprey) French of Crown Point. On fathers' side: William Sr. & Helen (Finlay) Harris of Mineville; great-grandparents William & Margaret (Varno) Harris of Mineville. Numerous aunts, uncles, and cousins, on both sides.
A memorial for Robb and Spaghetti Dinner Benefit with 50/50 raffle, will be held Nov. 19, 2011, at the VFW Hall in Mineville from 5 - 8 P.M. All proceeds will go to his beloved, Barbie.
A DVD of his "Player of the Year" & "The Golden 11" football awards on George Michael's - Channel 4 - Sports Sunday will be shown, as well as pictures on CD of his life. Tickets for 100 dinners are $15 per dinner. (Spagetti with homemade Italian Sauce & Meatballs along with garlic bread, salad, & cake). Take - outs available! First come, first served! Public welcome! 50/50 raffle tickets 1 for $1.00 or 6 for $5.00. Tickets for all will be sold at the door or you may contact Bev or Gabby DeFelice at 546-7766 in advance.