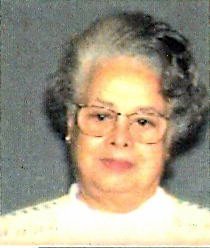 Emily Virginia Harrison
Ticonderoga
January 31, 1928 - October 31, 2011
Jan. 31, 1928-Oct. 31, 2011
TICONDEROGA — Emily Virginia Harrison, 83, of Ticonderoga, passed away on Monday, Oct. 31, 2011, at the Fort Hudson Nursing Home.
Born in Richmond, Va., Jan. 31, 1928, she was the daughter of the late Oscar and Hazel (Arrington) Williams.
Mrs. Harrison had been a resident of Ticonderoga for many years. She was employed by the Moses-Ludington Hospital of Ticonderoga as a nurse for many years.
She was pre-deceased by her husband Augustus B. Harrison on March 8, 2010.
Survivors include her daughter, Pamala Thorne and her husband, Walter of Ticonderoga; her son, Steven Robinson of Newburgh; and three grandchildren, Ayanna Gas of New Jersey, Walter Thorne, Jr. of Massachusetts, and Steven Robinson, Jr. of Georgia. She is also survived by many great-grandchildren, and nieces and nepehws.
Relatives and friends called Wednesday, Nov. 2, from 4 to 6 p.m. at the Wilcox & Regan Funeral Home, 11 Algonkin St., Ticonderoga,
A funeral service followed at 6 p.m. on Wednesday at the funeral home. The Rev. Scott Tyler, pastor of the First United Methodist Church of Ticonderoga, officiated.
Interment took place beside her husband at the Gerald B.H. Solomon Saratoga National Cemetery of Schuylerville on Thursday, Nov. 3, at 11 a.m.
Donations in Mrs. Harrison's memory may be made to the Essex County Office for the Aging, P.O. Box 217 Elizabethtown 12932.