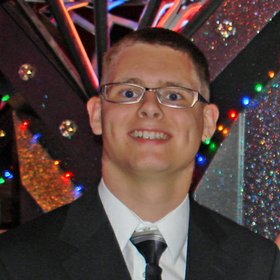 Brandon William Kroll
unknown - November 22, 2011
Brandon William Kroll, 23, passed into the light of eternal life while sleeping Nov. 22, 2011.
The son of Beth (Thompson) Kroll, Cooper City, Fla., and Warren Kroll, Ft Lauderdale, Brandon enjoyed a rich full life, growing up playing baseball, bowling, golf…… loved music, dancing, playing computer games and watching game shows. Juggling and magic were among his fascinations. He was very interested in politics and followed the news. He loved to travel, stay in hotels and order room service. He visited each year in the Adirondacks to see "my people." His beautiful smile and bright blue eyes lit up the room when he walked in.
Brandon was guided into the light by those who predeceased him; Grandma Helen Burrows and Uncle Bart Thompson of Crown Point.
Besides his mother and father, he is survived by Tony Belotto, his loving Grandparents, "Nana" Beverly and "Grandpa" Milton Tesar of Crown Point, "Grandpa Willie" William H Thompson of Moriah, and "MeeMaw" Mildred Ward of Davie, Fla.; Uncles and Aunts: Brett & Kathy Thompson, Bradley and Kim Thompson, of Moriah, Brian and Wanda Thompson of Citrus Heights, Calif., Noreen and Ron Lazar of Weston, Fla., and Joyce and Ken Joyce of Champion Hills, N.C.; Barbara and Fred French of Crown Point, and many cousins. He loved his extended families the Harris/Browns of Cooper City; the Belotto/Salemi of Pompano Beach, and The Hiden/Hughes of Lakeland, Fla.
Many more people, whose lives and hearts he touched. He brought a better understanding and compassion for those with different abilities.
Brandon enjoyed helping the less fortunate. In lieu of flowers, he would encourage you to reach out to those in need and offer a helping hand. Whether it is inviting them over for a meal, driving them to a doctor's visit, shoveling a driveway or path, giving a caregiver a much needed break, or just stopping in for a cup of coffee. It will make Brandon smile!