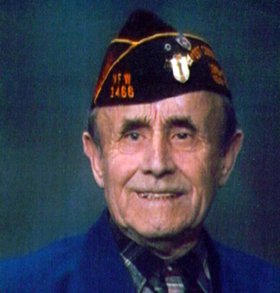 Thomas C. Bushey
Plattsburgh
November 15, 1924 - December 1, 2011
Nov. 15, 1924 - Dec. 1, 2011
Thomas C. Bushey, 87, of Eddie Drive in Plattsburgh, passed away Thursday, Dec. 1, 2011 at the CVPH Medical Center in Plattsburgh. He was born in Plattsburgh on Nov. 15, 1924, the son of the late Chester and Catherine (Martineau) Bushey. Thomas served as a Sergeant in the Army Air Corps during World War II and was employed by the Carpenters & Joiners Union Local 1042 for many years until his retirement. He was a member of V.F.W. Post 1466 in Beekmantown and was a Past Commander and was a member of St. Peter's Church. He was also a founding member of the Wallace Hill Fire Department.
Thomas enjoyed fishing, gardening and his cats. He is survived by his siblings and their spouses; Marion Lytle of Syracuse, Delores Rivers of Plattsburgh, Malcolm Bushey and his companion Rebecca Drollette of Beekmantown, Roxie and Leo Deyo of Beekmantown, Joseph and Linda Bushey of West Chazy, Donna and Jerry Nephew of Beekmantown, Judy Raml and her companion Jim Williams of Aurora, Co., Catherine Bushey-Calley of West Chazy, his brothers in law; Paul Ghenoiu, Sr. of Beekmantown, Tony Cerullo of Burlington, Ma., Jack Gleason of Niagara Falls, and several nieces and nephews.
His wife, Florence, his sisters Margaret LaFountain, Muriel Gleason, Gertrude Fletcher, Shirley Cerullo, Eleanor Ghenoiu and a brother, Wilfred Bushey passed away earlier.
Calling hours were held on Sunday, Dec. 4, 2011 at the Brown Funeral Home, 29 Broad St. in Plattsburgh. A Mass of Christian Burial were celebrated on Monday, Dec. 5, 2011 at St. Peter's Church followed by interment in the parish cemetery. Arrangements were made by Brown Funeral Home, 29 Broad St., Plattsburgh, N.Y. 12901. (518) 561-3980. Online condolences and memorial candles may be offered at www.brownfuneralhomeinc.com.