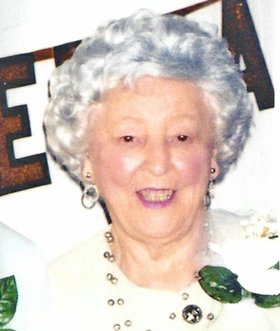 Florence Catherine Glebus
Witherbee
April 3, 1921 - August 25, 2011
WITHERBEE — Florence Catherine Glebus, 90, of Silver Hill Road in Witherbee joined her beloved husband Anthony on Aug. 25, 2011.
She was born in Ticonderoga, daughter of Ella (Crossman) and George Trudeau on April 3, 1921.
She was employed by the Ticonderoga International Paper Mill for over 25 years. In her younger days she enjoyed fishing and small game hunting with her husband and sons. She was a longtime member of St. Michael's Church in Witherbee and the Catholic Daughters. She was also an active participant of women's bowling teams in both Mineville and Vero Beach, Fla. She  enjoyed painting water colors and crocheted many beautiful afghans and doilies throughout the years. She loved traveling to Florida with her husband, Tony, every winter upon her retirement. An avid baseball fan she rarely missed a Dodgers or Mets televised game and she and Tony attended the Dodgers spring practice daily becoming well acquainted with many of the players during their stay in Vero Beach, Fla. Her greatest pride were her grandsons and great grandchildren.
Florence is predeceased by her husband, Anthony and eight siblings, Minnie, Mabel, Dorothy, Beatrice, Georgia, Edward, James and Howard Trudeau.
She is survived by two sons, Anthony and (late Patricia) Glebus of Lewis and Gary and Shelly Glebus of Schroon Lake, three grandsons and five great-grandchildren, Tim and Mary (Fountain) Glebus of Morrisonville, NY, Scott and Stephanie Glebus of Jacksonville, Fla., and their 2 sons Jake and Brock, Dr. Geoffrey and Rachel Glebus of San Antonio, Texas, and their three daughters Tara, Elizabeth and Alexa.
Calling hours were held Wednesday, Aug. 31, from 3-6 p.m. at the Harland Funeral Home in Port Henry. A Catholic Mass celebrated her life Thursday, Sept. 1, at 10 a.m. at the Church of All Saints in Mineville. In lieu of flowers, donations may be made to the Moriah Ambulance Squad.