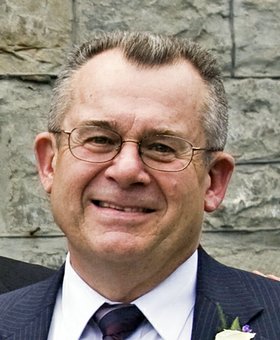 Douglas James Stitt
Crown Point
May 19, 1947 - August 14, 2011
Douglas James Stitt, 64, of Crown Point, died Sunday, Aug. 14, 2011, after a six month battle with pancreatic cancer.
Born May, 19, 1947, in Bay Shore, Doug was the only child of Teresa and the late James Stitt.
Doug graduated from Seaford High School, where he excelled as a musician, playing the French horn. After high school, he enlisted in the Air Force. Only after enlisting, did he learn of the existence of the Air Force Band — which providentially needed a French horn player.
Doug was the owner and founder of Champlain Valley Heating & Plumbing, which began in 1985.
Besides his business, Doug will be remembered for his quick wit, his dry sense of humor, and his idealism. He did not receive many years of formal education, but he inspired many with his profound wisdom.
He is survived by his wife, Maria, his mother Teresa Stitt of Crown Point, and his three children, Father Bryan Stitt of Ogdensburg, Karen Cruess and her husband Scott of Stafford, Va., and Michael Stitt of Mamaroneck; and his two granddaughters, Grace and Gianna Cruess.
Funeral arrangements are with Wilcox & Regan funeral home on 11 Algonkin St., Ticonderoga. Calling hours were from 2 - 4 and 7 - 9 p.m. on Tuesday, Aug. 16. A Catholic Wake Service was offered at 8:30 p.m. on Tuesday evening.
A Mass of Christian Burial was celebrated by Father Bryan Stitt and local priests at 11 a.m. on Wednesday, Aug. 17, at St. Mary's Catholic Church of Ticonderoga.
The Rite of Committal followed at the family plot of the Sacred Heart Parish Cemetery in Crown Point.
Donations in memory of Douglas J. Stitt may be made to St. Mary's School, 64 Amherst Avenue, Ticonderoga 12883.