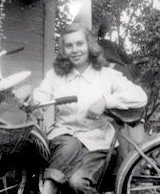 Dawn Elizabeth Mars
Ticonderoga
November 26, 1936 - unknown
Dawn Elizabeth Mars, 74 of Canfield Road in Chilson, Ticonderoga, died peacefully at home surrounded by her loving family.
She was born in Ticonderoga, Nov. 26, 1936, to Wayne & Helen Trombley.
Dawn loved the outdoors and enjoyed hunting, fishing, hiking, and gardening in her earlier years. She also loved cooking for family gatherings. She opened her heart and home to her numerous friends and neighbors, she was an avid reader, and enjoyed playing cards and board games with her grandchildren.
She is survived by her 99-year-old mother Helen Trombley Fleming of Ticonderoga, her sister Paula LaPorte, of Albany, along with her children, Michael and Sharon Mars of Tamworth, N.H., William and Renate (Mars) Devin of Cohasset, Mass., James and Erica (Mars) Braisted of Silver Bay, Aaron and Cecile Mars of Schaghticoke, Adrian and Judy Mars of Ticonderoga, Phil and Martina (Mars) Crank of Ticonderoga, Gary Mars of Ticonderoga, Lisa Mars of Ticonderoga, Peter and Kristi Mars of Ticonderoga, and Mark and Stacey Mars of Putnam Station. She is also survived by her 26 grandchildren; seven great grandchildren, and many nieces and nephews.
Dawn was predeceased by her husband Peter, son Eric, granddaughter Stacy Mars, father Wayne Trombley and step-father William Fleming.
A service will take place on Saturday, Aug. 20, at 2 p.m. at her residence.
Arrangements are under the direction of the Wilcox & Regan Funeral Home of Ticonderoga.