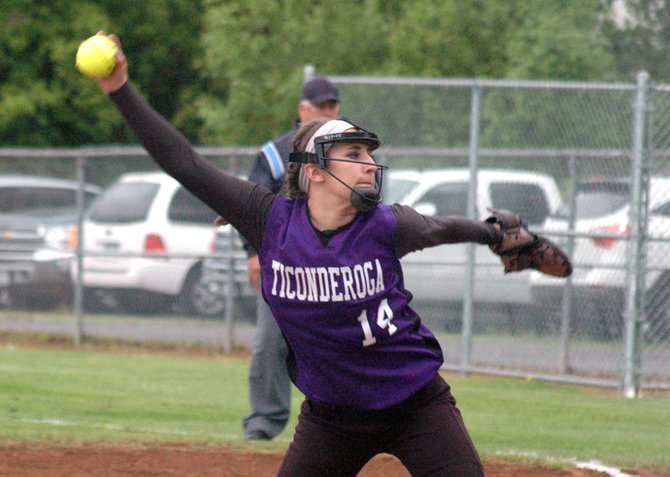 continued — With Sadie Hamel at the plate, the Lake Placid catcher was unable to handle a ball in the dirt and after a small hesitation, Jebb broke for home.
"The first thing I am always doing is listening to my coach," Jebb said about the decision. "I am always role playing in my mind what I would do in different situations. I wasn't planning on going but my coach yelled at the last second."
After sliding into home, Jebb said she could not see or hear the umpire make the final call.
"I looked back at my coach to see the expression on her face and that's when I knew we won," she said.
After walking two with one scoring in the top of the first, Ross followed with seven scoreless innings, striking out six while scattering seven hits.
The Sentinels tied the game in the bottom of the fourth when Savannah Bezon (1 for 3) led off with a double. After a Kylie Austin ground out, Lexi Moor lined a ball up the middle of the field to score Bezon. In the game, Moore was 2 for 2 with a stolen base and RBI. She was also hit by a pitch.
"It was a sigh of relief for me to get that run home," Moore said. "We had been hitting the ball well in the game, but I had not been hitting that well so it was a nice surprise."
Baseball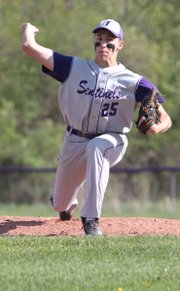 A day earlier, May 27, It was the Sentinel baseball team that scored first as Trudeau drove home Mark Donohue on a fielders choice in the first inning.
Trudeau surrendered his lone run of the game in the fifth, overall surrendering only three hits while walking two and striking out nine.
"Ryan Trudeau came up very big on multiple occasions," head coach Dan Dorsett said. "He was able to get out of every inning except one with runners in scoring position."
Vote on this Story by clicking on the Icon