Plattsburgh — For those who appreciate solid pitching and defense and all the pressure that comes with a championship on the line, the Class C baseball and softball championship games over the past two days were a dream come true.
Even more so if you were a fan of the Ticonderoga Sentinels.
Ryan Trudeau and Hannah Ross dominated on the mound for their respective teams and Jarryn Granger and Maura Jebb played walk-off heroes as both the baseball and softball teams scored 2-1 victories: the boys against Northern Adirondack and girls against Lake Placid, the third straight year the Lady Sentinels have scored a walk-off win against the Lady Blue Bombers to capture the Class C crown.
Softball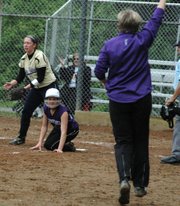 Tied 1-1 heading into the seventh inning May 28, Ross twice battled back from having a runner on third with only one out in the inning to keep Lake Placid off the board. In the seventh, Ross got ground outs to the shortstop and pitcher while getting grounders to second and third to end the eighth.
I was nervous at the start of the game," Ross said. "I have faith in everyone that was behind me making the plays that needed to be made. When we pull together as a team we can make it work."
That set the stage for the bottom of the eighth, when Jebb came to the mound after going 0 for 3 in the first seven.
"I was on the ball all night I just needed to get it to the right spot," Jebb said of her ball hit deep into the hole on the left side of the field which she beat out for an infield hit.
Haleigh Wright (2 for 4, double) followed with a single to put runners on first and second. Nicole Fuller, who filled in at catcher with ease, then hit a ball to second base for a force out, sending Jebb and Wright to third and second, respectively.
(Continued on Next Page)
Prev Next
Vote on this Story by clicking on the Icon