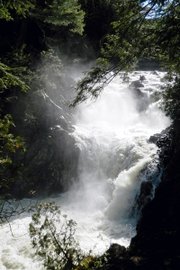 The day began bright and sunny, with large puffy, clouds racing across the sky, driven by the strong winds. A high pressure front had moved in after a series of heavy storms had battered the adjacent High Peaks the previous day. The foul weather had all of the local rivers and streams running high with runoff.
As I passed through Keene, the East Branch of the Ausable was roaring, but the waters were relatively clear. I though it was unusual as the West Branch flow had the appearance of chocolate milk when I had crossed over it in Lake Placid fifteen minutes earlier.
As I approached Elizabethtown, driving along Rt. 9N, all the little streams were flowing with a frothy tumble, and yet The Branch, a beautiful little stream that begins on the shoulders of Hurricane Mountain, was as clear freshly cleaned window.
In Elizabethtown, where the Boquet River was nearly bursting over it's banks, the flow was likewise unusually clear for such a seemingly heavy runoff.
I had traveled to Elizabethtown with the intention of visiting a the local streams, and casting a few flies, but it was painfully obvious that although the will was strong, the way was impossible. Fishing in such conditions is fruitless, as it's nearly impossible to keep a fly on the water long enough for a fish to see it.

As a result, I chose the next best option, which was to enjoy the remainder of the sunny day while enjoying the roar of a waterfall or two.
When it comes to waterfalls, Essex County is the place to go, as it has more waterfalls within it's boundaries than any other county in the state. It is understandable, as the county is also home to the tallest mountains in the state, and we all know water flows downhill.
(Continued on Next Page)
Prev Next
Vote on this Story by clicking on the Icon