LAKE GEORGE — Minutes after the new Warrensburg-Lake George supermarket's ribbon-cutting ceremony Sunday at 8 a.m., store manager Bryan LaLone watched hundreds of people push their shopping carts through the aisles of the store and gawk at the tens of thousands of different products in the store's inventory.
"There's a spirit of overwhelming excitement today," said Lalone, a native of Stony Creek and a 1996 graduate of Warrensburg High School. "I've heard so many testimonials from people that they are impressed with the variety and value we offer."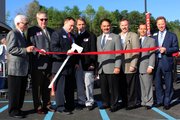 Shoppers from local towns and communities — even from adjacent counties — crammed the store at its grand opening, many filling up their carts to overflowing.
Warrensburg Supervisor Kevin Geraghty stood inside the store, watching the crowd circulate in the aisles, people greeting each other as they put groceries in the cart.
All eight registers were busy racking up sales. "People are really stoked," Geraghty said about public reaction to the supermarket that is the largest store in northern Warren County. "This retail development is important for people in the southern Adirondacks."
Jerry Golub, Price Chopper President, echoed the point.
"People are really excited," he said with a smile.
Rebecca Hess pushed a cart through the produce aisles with her daughter Madelyn, 2, in tow. Her mother Cheryl DiPasquale won a $250 shopping gift card from Price Chopper and she and her husband Mark shared the winnings with Hess.
"This is awesome — there's a lot more variety here than we've had in town for decades," Hess said. Mark DiPasquale noted that the fact the grocery store was open 24 hours during the summer — the only market in northern Warren County to do so — meant a vital convenience to his family members because his wife might want to shop late at night due to her unusual work hours.
(Continued on Next Page)
Prev Next
Vote on this Story by clicking on the Icon