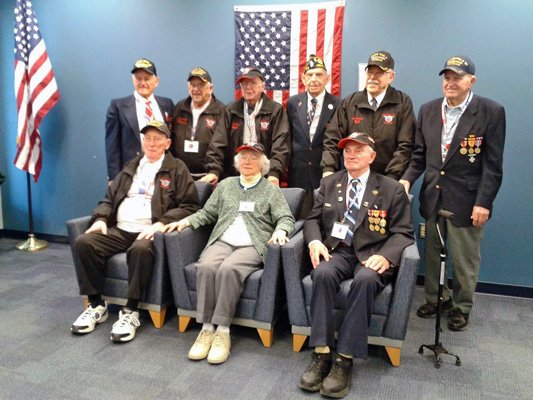 Plattsburgh — This Saturday, May 17 will mark the first North Country Honor Flight of 2014, flying our local World War II veterans to their National World War II Memorial in Washington D.C.
North Country Honor Flight will fly a total of seven flights from Plattsburgh and several from Burlington VT throughout the spring and fall of 2014. This year they will fly over 140 WW-II veterans to Washington, at no cost to the veteran.
In 2013, the inaugural year for North Country Honor Flight, 80 veterans made the trip to Washington. Along with flying veterans to Washington, Honor Flight takes part in educational events at high schools and colleges throughout the region, reminding a new generation of students of the sacrifices made by these heroes seventy years ago. They also hold events throughout the year honoring and thanking the veterans for their service.
North Country Honor Flight is one of 122 Honor Flight hubs nationwide, and part of the National Honor Flight Network, which to date has flown over 118,000 WW-II veterans to their Memorial.
Departure ceremonies for the first Honor Flight start at 7 a.m. at the U.S. Oval parade grounds at the former Plattsburgh Air Base Oval. A flag ceremony will be held at 7:30, followed by a parade lap and motorcade to the Plattsburgh International Airport. The public is welcome and encouraged to attend this ceremony to help see the veterans off.
Departure ceremonies at the airport will be held from 8 – 8:50 AM, followed by boarding for the 9:30 AM flight to Baltimore-Washington International Airport.
While in Washington for a whirlwind one day tour, veterans and their Guardians will first visit the National World War II Memorial for a ceremony thanking them for their service to our Nation, and honoring the four hundred thousand who never came home. Following the trip to the World War II Memorial they will visit Arlington National Cemetery, as well as the Iwo Jima Monument.
Veterans will be the guests of honor for a dinner at the Howard County Memorial VFW Post 8097 in Jessup, Maryland before departing for a 9 PM charter flight back to Plattsburgh. They will return to Plattsburgh International Airport for a welcome home ceremony at 10:30 PM. The public is again encouraged to attend the welcome home ceremony. Time is running out for these heroes.
For further information please contact Danny Kaifetz at 518.834.9901
Vote on this Story by clicking on the Icon