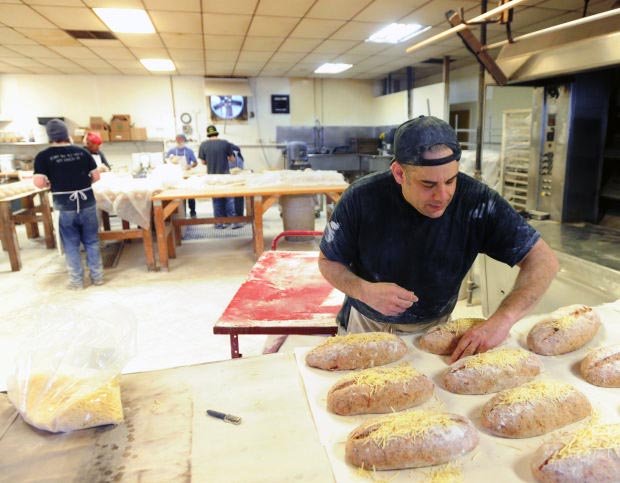 GLENS FALLS — Matt Funiciello, the Green Party's candidate for Congress, formally announced his candidacy to replace retiring Congressman Bill Owens (D-Plattsburgh) at the Rock Hill Bakehouse, the bakery he owns and manages in Glens Falls, on Wednesday, May 7.
Nearly 100 voters came to hear the candidate speak.
"The kickoff showed just how fed up people in the district are with the false divide in politics," said Funiciello in a written statement. "They are tired of sending representatives to Washington who are funded by, and represent, big corporate interests."
The major political parties, said Funiciello, only exist to represent the elite.
"I don't understand why anyone would vote for either of them if they self-identify with workers," he later told the Valley News in a phone interview. "What good has having a Democratic or Republican representative done for you in your lifetime? That's not a conservative or liberal issue — that's just common sense and I want to bring that Adirondack viewpoint to the House."
At the event, Funiciello reiterated his platform, which includes single-payer health care, building local jobs at living wages, cutting defense spending and making sure corporations "pay their fair share."
Funiciello said these are all "majoritarian issues" supported by the American public and that he was disappointed that the Green Party would not see a primary following Don Hassig's removal from the ballot last month.
"We're all a little disappointed because this would have been a great platform to discuss the issues," he said.
In response to those who may curdle at the very mention of the Green Party and the public pillorying of Ralph Nader following his 2000 presidential campaign that some believe siphoned away votes away from progressives and handed the election to George W. Bush, Funiciello called it a non-issue.
"It's propaganda," he said. "Al Gore lost because he was a terrible candidate. Nader lost because he didn't take any corporate money. I would ask the Democrats to clean up their house before attacking Nader."
(Continued on Next Page)
Prev Next
Vote on this Story by clicking on the Icon