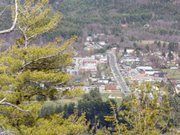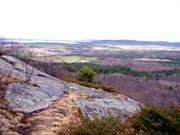 By now, most local lakes and ponds have been free of ice for at least a week or more. However, it appears the winter season prefers to linger a little longer, with occasional flurries still being reported, while water temperatures remain cool in the 40's and low 50's.
Cold rains have combined with snowmelt to keep the rivers and streams running high and cold, and as a result, the fish have been slow to take.
The Boquet, as well as the Ausable were flowing heavy with whitewater over the weekend.

One angler I met joked, "Maybe I should've left my ski poles in the truck."
Water temperatures on the ponds have been slow to warm as well, and frustrated trout anglers have been voicing their frustrations.
"I've never seen it so slow at ice out", a veteran angler recently explained, "Usually, I could count on taking a few home by now but I haven't had a bite in two full days on the water."
I recently spent time scouting a few of the local streams and rivers, but after dealing the conditions; I decided to let the fish rest. I don't like to fish for frustration, it's too easy to catch.
Despite the long winter, it's still early yet, and there's no rush. Although trilliums are already blooming in the Champlain Valley, there were still pockets of snow and ice on Cobble Hill when I climbed recently.
Traditionally, Mothers Day weekend has been the best spring date for fishing on the ponds, and Father's Day has often proven to be the best on the streams and rivers.
In reality, when it comes to fishing, there's never really a bad time to get out.
Good hikes and Grand
Although I didn't participate in the recent Grand Hike hosted by the Champlain Area Trail System last weekend, I did have the opportunity to scramble to the summit of South Boquet Mountain late one afternoon, with my kid sister in tow.
(Continued on Next Page)
Prev Next
Vote on this Story by clicking on the Icon