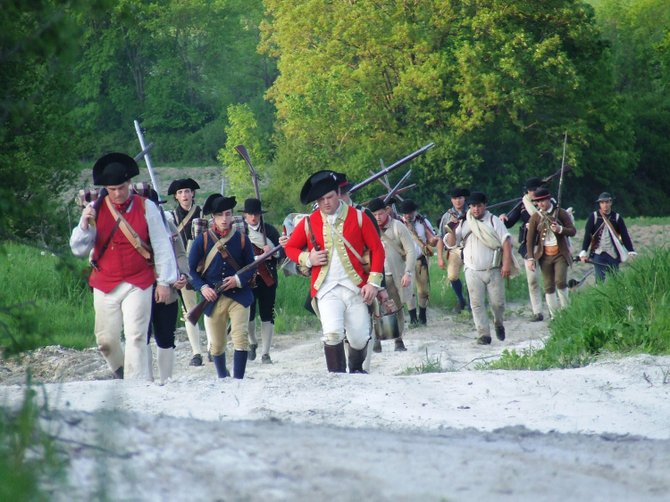 continued — The weekend will feature two camps just as it was historically. The British will be in garrison at Fort Ticonderoga beginning Saturday, May 10, and will be part of Fort Ticonderoga's special living history programming. Across Lake Champlain, the Green Mountain Boys, Ethan Allen and Benedict Arnold will have a temporary camp located in Shoreham, Vt.
Beginning at noon, these re-enactors will recreate the march down to Lake Chaplain along the original route in 1775. At 7:30 p.m., visitors can take a front row seat inside the walls of Fort Ticonderoga for the capture of the Fort. Advance tickets are required and space is limited. The remote British garrison surprised asleep with their families in the quarters at 9 p.m. as they are awakened by the Green Mountain Boys scream of "No Quarter."

Sunday, May 11, visitors will experience the uneasy consequences of "America's First Victory." The living history weekend will take place from 9:30 a.m. to 5 p.m.

Seasonal events
Other featured attractions include the shoe maker's shop and tailor's shop to explore how Fort Ticonderoga served as a major supply depot producing shoes and clothing for the thousands of soldiers camped at Ticonderoga.

Daily tours, Soldier's Life programs, family hands-on activities and Fife & Drum Corps performances launch guests on an adventure in time where they will discover the life at Fort Ticonderoga in 1776.
Fort Ticonderoga's newest exhibit "Founding Fashion: The Diversity of Regularity in 18th Century Military Clothing," highlights the most impressive 18th-century military clothing collection in America.

Recreation activities will highlight Fort Ticonderoga's rich historic landscape in 2014. A new family scavenger hunt will be part of the hiking trail winding around Carillon Battlefield.
The King's Garden, one of North America's oldest gardens and the largest public garden in the Adirondack-Lake Champlain region, will open on May 24 and offer many new garden-related programs for children and adults as well as daily tours.

Vote on this Story by clicking on the Icon