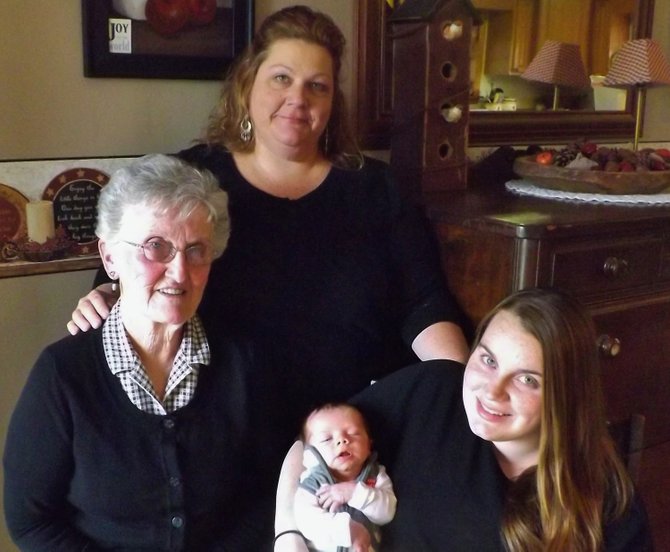 Ticonderoga — Caden Robert Cutting made his avant-garde entrance April 13 at 12:09 a.m. at the home of soon to be grandparents Dale and Nancy Quesnel.
He was born to Jordan Quesnel and Cody Cutting.
Jordan was released from Fletcher Allen Hospital late April 12 with the advice to take some Tylenol for pain and benedryl to sleep.

If this was in fact true labor, she was advised to wait and see how the next 24 to 48 hours unfolded.

Much to the surprise of all parties involved, baby Caden arrived less than four hours after those words were spoken.
"On the ride home from the hospital Jordan was in so much pain," Jordan's father Dale Quesnel, a member of the Ticonderoga Police Department, said. "She was riding up front with me crying, I had half a mind to turn around and go back and tell them, 'she's staying here.'"
Jordan and her family arrived home just after 10 p.m.
"After Jordan got out of the shower I heard her hollering for me," Jordan's mother Nancy Quesnel said. "I realized not only was she in real labor, but she was very close to delivering. I asked for someone to go get my mother who lives next door and call an ambulance, to help me deliver this baby and got Jordan laying on my bed."
Elizabeth Ann Dedrick, grandmother and former EMT, arrived to hold Jordan's hand and be her extemporaneous labor coach.

"At one point Jordan looked up at me and said 'I'm scared,'" Nancy said. "I remember thinking, 'me too.' But my response to her was that both mine and my husbands grandmothers' children were all born at home and that women have had children in fields prior to that. I told her that they did it and we could, too."
(Continued on Next Page)
Prev Next
Vote on this Story by clicking on the Icon