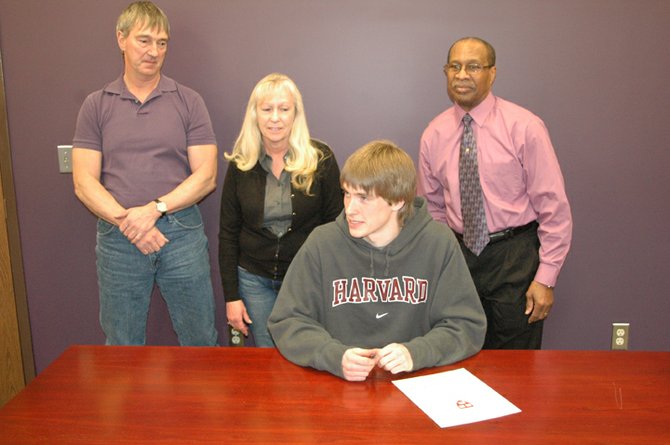 continued — "When I first saw Jay as a seventh grader I knew he could be special," Walter Thorne, Ti track coach, said. "I told his parents he had the potential to be great. I can see him reaching the Olympics.
"I've had a lot of really good athletes, but Jay is the whole package," Thorne said. "Not only does he have the talent, he has the work ethic. It's no accident he's good."
Hebert will leave Ti High this spring as Section VII's most decorated track athlete. No one else can match his four state titles.
"He's the best sprinter ever in our section," Thorne said. "It's not even close."
With a personal best of 22.6 seconds for 200 meters, Thorne believes Hebert will be a versatile contributor to the Harvard track program, although he'll continue to concentrate on the hurdles.
"He did the 400 (meter) hurdles as a freshman and I believe he can run 21 (seconds) in the 200," Thorne said of Hebert. "His first 50 meters is easy, smooth and very fast. He's a great sprinter."
Hebert's success is especially impressive when one considers he lives in the north. While athletes in warmer climates train outside all year, Hebert spends the winter months running in the halls of Ti High. At the national championship meet he was the top runner from the north.
In the process of reaching the national championship race Hebert set a Section VII record for the event. He ran 7.86 seconds in the semifinal round.
The national championship event was a different challenge for Hebert. He had competed in the 55-meter hurdles all season, while the rest of the country runs 60 meters.
With his college decision behind him, Hebert is now focused on the outdoor track season. His goals are simple.
"I want to improve, to be faster," he said.
Whatever Hebert does, his parents will be there to see him.
"We haven't missed a meet since seventh grade," his mother, Julie said. "We've never missed a meet. That's one of the good things about Harvard. All the Ivy League schools are within 4-5 hours (drive), so we'll be able to see some of his meets."
Vote on this Story by clicking on the Icon