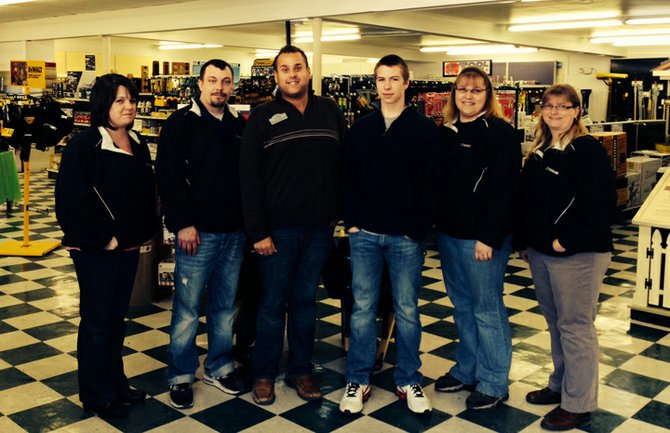 Ticonderoga — Downtown Ticonderoga will be adorned with flowers this spring, if spring ever arrives.
Sean Lawrie, a Ticonderoga Boy Scout, has constructed and installed wooden flower boxes outside the Ticonderoga Area Chamber of Commerce office on Montcalm Street as part of his Eagle Scout project.
Eagle Scout, scouting's ultimate rank, requires scouts to complete a community service project prior to receiving the award.
"This has truly been a community effort," Matthew Courtright, chamber executive director, said. "We are thrilled to have worked with Sean on this project. The flower boxes are a great addition to the chamber office and will enhance our appearance as the visitor and business center for the Ticonderoga area."
With direction from mentor Michael Moser, Lawrie met with local businesses seeking donations and held a bottle drive to pay for other materials. ProBuild in Ticonderoga donated the majority of the wood and stain for the project. Aubuchon Hardware of Ticonderoga donated brackets and screws.
"Eagle Scout projects are a great way to get connected within your community and assist a local non-profit," Lawrie said. "It was a pleasure working and coordinating with the Ticonderoga Area Chamber of Commerce, the ProBuild team and Aubuchon of Ticonderoga. I would also like to thank Michael Moser and all who assisted in installing the flower boxes."
Courtright said the project was a joint effort.
"I appreciate the continued support from our dedicated chamber members," he said. "ProBuild and Aubuchon Hardware stepped up and assisted with this project. I would like to extend my thanks and appreciation to both of these dedicated chamber members and local businesses. Without them and Sean's leadership this project would not have been possible."
Sue Tucker of ProBuild said her company is pleased to be part of Lawrie's project.
"ProBuild was happy to be part of Sean's Eagle Scout project and to support the Ticonderoga Area Chamber of Commerce," she said. "Eagle Scout projects are a wonderful way for our youth to serve the local community and create sustainable projects within the Ticonderoga area."
The Eagle Scout service project requires scouts to demonstrate leadership while performing a project for the benefit of the community. A written plan must be submitted and be pre-approved by the benefiting organization, the local scout leader, the unit committee and a district representative.
Courtright would like to see future Eagle Scout projects completed in Ticonderoga.
"The Ticonderoga Area Chamber of Commerce, town of Ticonderoga, and the Ticonderoga Montcalm Street Partnership are currently coordinating with Michael Moser on future Eagle Scout projects that will be a benefit to the community as whole," he said.
Vote on this Story by clicking on the Icon