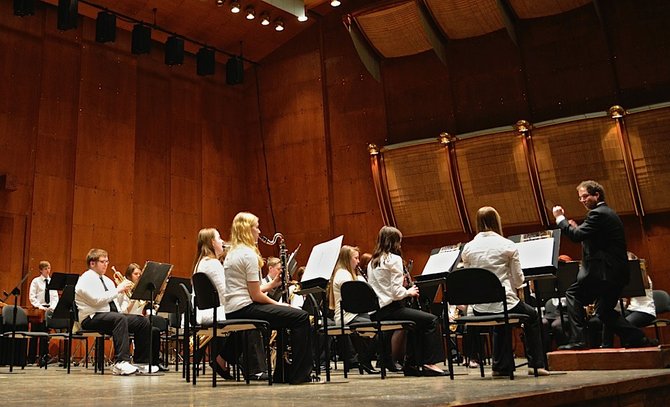 CHESTERTOWN — The members of the North Warren High School Senior Band recently had a privilege that relatively few musicians, however accomplished, have experienced.
They performed at Lincoln Center, which has hosted many of the greatest musicians in the world.
The band, comprised of music students in grades 9 through 12, performed onstage at Lincoln Center's Avery Fisher Hall as part of the National Band & Orchestra Festival held March 23 in Manhattan. Six bands from five other schools, primarily from downstate New York, also performed.
The band's performance was evaluated by a panel of renowned adjudicators: Virginia Allen, Dean of Orchestral Studies at Julliard School of Music; Glenn Block, Director of Orchestras and Opera and Professor of Conducting at Illinois State University; and Timothy Mahr, a noted American composer, conductor and Professor of Music at St. Olaf College in Minnesota.
North Warren band director Colin MacInnis said March 31 he was very pleased about the North Warren students' performance of three selections, including American Landscape, composed by Robert Smith.
"Our students hit it 'out of the park,'" he said. "I'm so proud of them!"
MacInness reported that the adjudicators were very positive in their comments but also provided suggestions for the ensemble's continuing improvement.
"We were very pleased with the judges' feedback — It was very encouraging and offered very constructive ideas."
MacInnis said the North Warren music students prepared well for the concert.
"The band members realized the significance of playing at one of the world's top concert halls," he said. "They worked very hard musically this year and raised money over several years to make this performance possible."
Sara Stewart of Chestertown, who plays the bells for the band, said she was impressed with the experience.
"The significance of our performance didn't hit me until after it all happened — that we had just played at the world-famous Lincoln Center," she said.
(Continued on Next Page)
Prev Next
Vote on this Story by clicking on the Icon