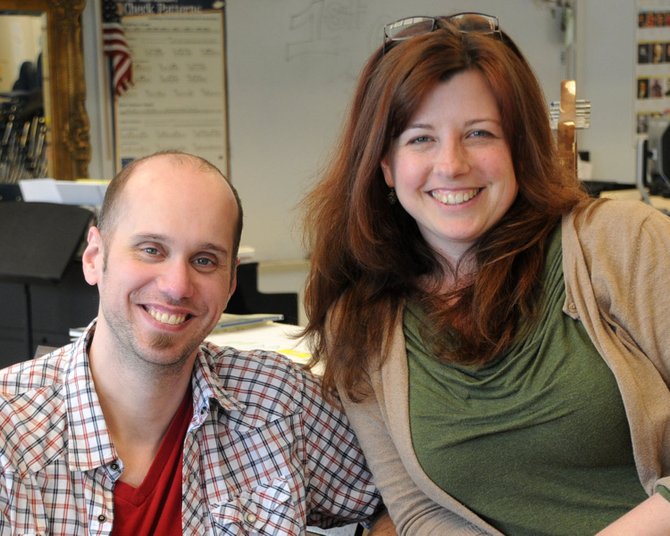 Willsboro — A duo of Willsboro Central School teachers have been honored nationally for their work in the arts.
Derrick A. Hopkins and Jennifer Moore, who respectively lead the theatre and music departments, have been selected as the 2014 Section 1 recipients of the National High School Heart of the Arts Award by the National Federation of State High School Associations (NFHS).
The duo were nominated by school Superintendent and New York State Public High School Athletic Association first vice president Stephen Broadwell. The NYSPHSAA oversees the states partnership in NFHS.
"He told us that we had received the nomination and how proud we should be of just being nominated for this award and we thought we were done," Moore, the music department head, said.
"I got an email a couple months later with the title 'You're a winner' and was not sure what it was," Drama head Hopkins said.
"He was probably thinking it was spam," Moore responded.
"After reading it a little more, I called Jen to ask her if she got the email," Hopkins said. "She said she was in the middle of class and I told her to look at her email to see if she got the same thing. She went to check and then I heard her start yelling with excitement."
Moore said the award was validation not only for the duo but for those who were invested into the arts programs.
"It recognizes the whole community that comes together to see these projects through and allows kids to experience a wide variety of arts," she said. "We have a dream administration and board of education that is unparalleled in this region and they are 100 percent behind you."
"It is a validation that even though we are such a small school, we are able to have programs like these that are thriving in a small setting with two people where in larger schools they have full departments with numerous teachers in each," Hopkins said. "We had 50 kids in our elementary musical, which is a very good percentage of the student body."
(Continued on Next Page)
Prev Next
Vote on this Story by clicking on the Icon