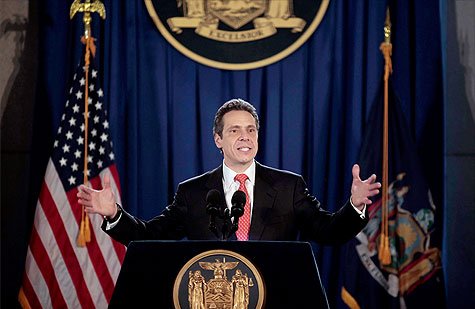 ALBANY — A poll by the Siena Research Institute shows New York State residents give Gov. Andrew Cuomo mixed grades.
According to the poll there was slippage in Cuomo's job performance and generic re-elect ratings.
By a 64-28 percent margin, voters say Cuomo has been an effective governor. However, on seven of eight specific issues, only between 15 and 26 percent of voters said that issue has improved since Cuomo's been governor, while between 24 and 45 percent of voters said it has gotten worse.
The poll was based on the opinions of 813 registered voters. The poll asked about ensuring equal rights for New Yorkers, New York's business climate, lessening corruption in state government, state government effectiveness, personal economic well-being, quality of public education, economic well-being of most New Yorkers, and fairness of the state's tax policy.
SAFE Act
A year after the enactment of the SAFE Act, New Yorkers support the law by a two-to-one margin. Sixty-three percent of voters support the SAFE Act, compared to 61 percent one year ago, in March 2013.
"While overall, New Yorkers support the SAFE Act by a two-to-one margin, there are some stark differences based on partisanship and geography. Three-quarters of Democrats and a majority of independents support the law, while a majority of Republicans oppose it. The law is supported by more than three-quarters of New York City voters and almost two-thirds of downstate suburban voters, while a slim majority of upstaters oppose it," Siena pollster Steve Greenberg said.
"While a majority of men and white voters support the gun law, even stronger majorities of women, black and Latino voters support it."
College classes for inmates
"There is a very strong partisan and geographic split on the governor's proposal to fund college classes for prison inmates. Two-thirds of Democrats support it, while two-thirds of Republicans oppose it, and independents are divided down the middle. More than 70 percent of New York City voters support it, as do a majority of downstate suburbanites, however, two-thirds of upstaters oppose the idea," Greenberg said.
(Continued on Next Page)
Prev Next
Vote on this Story by clicking on the Icon