I could hardly breathe at 340.
That was the way I felt nine months ago when I was out in Utah. You may think it was because I was running or exerting myself in some way and just another case of trying to adjust to being "at altitude."
What if I told you, instead, I was driving a car on cruise control. I was lying down trying to go to sleep. Watching television. Things that require the most minimal of physical exertion.
A couple of people over the last couple months have asked me why I started to focus on my health, a journey that led me to the base of Spruce Hill Saturday, March 22, competing in the 34th annual Doc Lopez Run For Hope's 13.1-mile half marathon. Seriously, from not being able to breathe watching television to running up a very steep hill, which was only two of the total miles.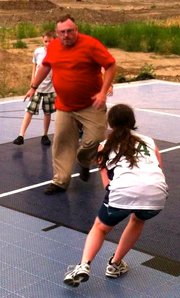 Well, that "Lovely Deseret" experience really was the point where it happened. Before I headed out to Utah in July of last year, I weighed 340 pounds. I know I didn't get any lighter out there, just more out of breath. It's something that I have told no one until now, not even my wife. Although she is the one person who gets to hear me breathe up close.
That's when I decided I could no longer live like that and I needed to make a change. It had to be serious and committed. I had been walking and talking about this with former Denton employee and current Lake Placid News editor Andy Flynn, who has also been tracking his weight loss journey in his respective newspaper, but I was never able to kick it into the next gear, not until that trip to Utah.
One thing that helped was an addition we made as a family right before we went on our vacation. Every morning from late July until December, you could find me walking the streets of Westport with my son's new best friend, Rooney, a rowdy mutt we adopted from the North Country SPCA. During the summer, we would often walk twice a day, in the morning and again in the evening. While the walks got more sparse during the coldest weather of the year and are now becoming frequent again with the spring, the fact remains that the dog has to be walked every day and it benefits all six of our legs.
(Continued on Next Page)
Prev Next
Vote on this Story by clicking on the Icon