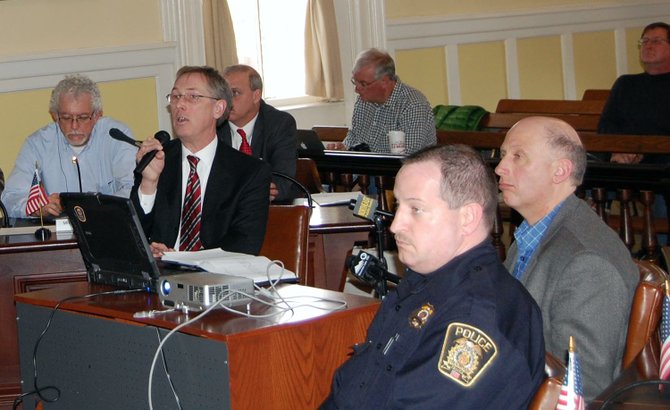 continued — Four-hundred of those live in the Northeast Corridor. It's unclear how many of those live in Essex County.
While Greenberg said the communication process is "constantly evolving" between CP and county and town officials, it's murky as to what the exact discussion protocol is and if a regular channel for dialogue is in place.
IF DISASTER STRIKES
CP Community Relations Manager Randy Marsh said while he couldn't reveal the exact emergency response plan due to national security concerns, he said local fire department chiefs were free to request "density reports" on a "need to know basis."
Marsh said that Tuesday's meeting, which included a detailed presentation heavy with statistics and the minutiae of rail transport technology, acted as the first step, or what he referred to as Railroad 101, in CP's emergency planning process.
The next step would be to conduct disaster exercises with local agencies, which would require at least a six-month advance notice, followed by the third step, a mock exercise with municipalities.
Train master George Newell said the trains, many of which contain the controversial DOT-111 tank cars that federal regulators have determined need to be given safety upgrades, roll into Albany twice per day after completing the four-day journey from North Dakota. These mile-long trains can carry roughly 85,000 barrels of oil.
Essex County emergency services head Donald Jaquish said the county is equipped to handle a train accident on land, but would have to call in outside help if a tank car went into Lake Champlain.
"We'd have call in outside help regardless of whatever department responds," he said. "We don't carry that much foam."
Jaquish said the county helps each of the 18 towns in creating non-specific comprehensive emergency management plans. Essex County has a comprehensive emergency management plan with annexes for categorized events and will start meeting with fire departments around the lake corridor to develop better and more plans.
Vote on this Story by clicking on the Icon