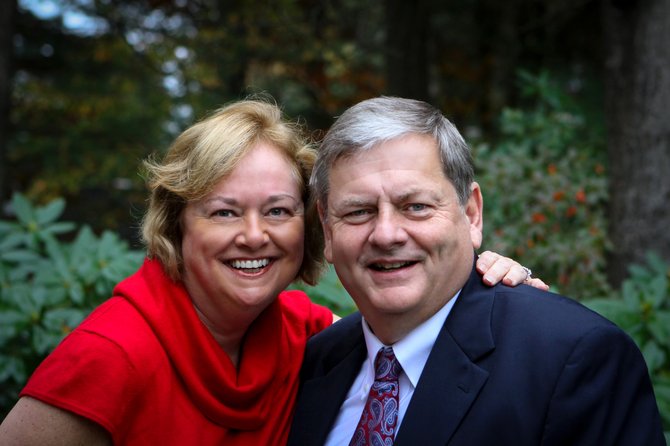 QUEENSBURY — A musical penned and produced by a Queensbury couple — that's enjoyed rave reviews at its initial readings — will be premiering April 3 through 6 at the Charles Wood Theater.
Rick Wilson, a local mortgage broker wrote the script — and his wife Nancy is producing the show, "Four Play: The Musical" — featuring professional Equity actors.
A reading of the musical's script last year in Glens Falls sparked prompted considerable enthusiasm about its prospects, and after the show was fully developed, it is ready to go on tour, according to publicist Kate Austin-Avon. The musical is now booked in four venues in New York for 14 shows, with an expectation that it will extend its tour nationally. Actors are now in Glens Falls rehearsing the show.
Austin-Avon describes the show as "a laugh-yourself-silly, true-to-life musical about friendship, men's health, and aging."
The musical begins with four male students arriving at college, full of youthful doubts and fears, Austin Avon said.
"They become friends and pledge a future of golf and fun," she said, noting that the plot resembles playwright Rick Wilson's personal experiences at Siena College — where the show is to be staged June 7, one stop on its initial tour.
In a recent interview, Wilson talked about what led him to authoring the show.
"About five years ago, my wife and I and two other couples attended a showing of "Menopause: The Musical" and two of us guys were mocked mercilessly by both the women onstage and in the audience," he said. "I left theater laughing, and I said to myself, 'There's got to be a male response to this — how the stages in life men go through could be presented in humorous way.' So about three years ago, I started writing it. Since then, it's evolved, and it's amazing how it's come to life."
(Continued on Next Page)
Prev Next
Vote on this Story by clicking on the Icon