Ticonderoga — A national retailer is coming to Ticonderoga.
Runnings, a privately-held chain based in Minnesota, plans to move into the former Lowe's building on Wicker Street. The store is expected to open next spring.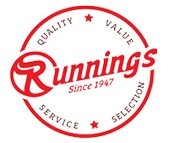 "We're evaluating a building in Ticonderoga," Dennis Jensen, Runnings director of marketing, said. "The transaction is pending, but we feel very confident our store will be open in Ticonderoga in the spring next year."
Lowe's closed its 102,000 square feet building in 2011. It has been vacant since.
Runnings offers a wide variety of items, Jensen said, including sporting goods, clothing, footwear, tools, home goods, lawn and garden supplies, toys, pet supplies, farm goods and more.
"All of the sorts of things people need for their lives can be found in Runnings," he said. "You can think of us as lots of different stores under one roof. We have many different departments."
Jensen said Runnings will utilize the entire building.
The company, which was formed in 1947 by Norman "Red" Running, has been owned by Dennis and Adele Reed since the mid 1980s.
Runnings employs more than 1,300 people at its 34 stores in Minnesota, Montana, North Dakota and South Dakota.
"We're excited to be expanding to the East," Jensen said. "We feel there will be a nice fit between our stores and our new customers. We have a strong rural connection and feel we can be very competitive in the area."
Runnings plans to open stores in Rome, Gloversville and Canandaigua this fall. Stores in Ticonderoga, Clay and Claremont, N.H., are expected to open in spring 2015.
The Ticonderoga store will employ 60 or more people, Jensen said, not counting contractors needed to renovate the existing Lowe's building.
"We are excited about the possibility of Runnings retail store opening in Ticonderoga in the former Lowe's building on Wicker Street," Matthew Courtright, Ticonderoga Area Chamber of Commerce executive director, said. "We have kept ongoing communication with the leasing company for the building and in November of 2013 we were contacted by Runnings to provide a variety of information and resources.
(Continued on Next Page)
Prev Next
Vote on this Story by clicking on the Icon