Photo Gallery
2013-14 All Valley boys team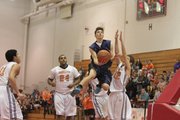 Members of the 2013-14 All Valley boys varsity basketball team.
Coach
Chad Lopez
Keene
Ike Tyler
Westport
0-13 and 0-17. That was the Keene record near the end of the 2012-13 season and the Westport record in 2011-12. Since, both squads have been piloted by their respective coaches into the Section VII/Class D championship picture, with both teams challenging Moriah (Keene in the semifinals, Westport in the championship game). Both are poised for continued success.
Captain
Shane Douglas
AuSable Valley
Senior Shane Douglas returns to his role as All Valley team captain after leading the Patriots to the Section VII/Class B finals a year after winning the Class C crown and coming close to defeating the eventual state champs in Lake George. Douglas again led the Valley in scoring with a 13.85 average while hitting 26 three-pointers and 49 from the free throw line.
Starters
Nick Arnold
Willsboro
After a slow start, the Warrior senior finished second in the Valley in scoring with a 13.37 average. He was also big from the free throw line, connecting there 50 times.
Ryan Davis
Westport
The Eagles senior forward averaged 11.38 per game for the Eagles while connecting on a Valley-best 58 shots from the free throw line.
John Goodnough
AuSable Valley
The senior forward was the fourth-leading scorer in the Valley with a 12.6 average, while leading all with 110 field goals on the season.
Colton Venner
Keene
The junior was the leading scorer for the Beavers and third leading in the Valley with a 14 point-per-game average. Venner also converted on 46 free throws this season.
Valley Leaders
Scoring
Shane Douglas, AVCS 277 13.85
Nick Arnold, Wills 254 13.37
Colton Venner, Keene 252 14.00
John Goodnough, AVCS 252 12.60
Anderson Gay, West 243 11.57
Ryan Davis, West 239 11.38
Austin Brown, Keene 233 12.94
Zach Cosgrove, AVCS 210 10.50
Three-pointers
Austin Brown, Keene 44
Zach Cosgrove, AVCS 32
Shane Douglas, AVCS 26
Anderson Gay, West 25
Free throws
Ryan Davis, West 58
Nick Arnold, Wills 50
Shane Douglas, AVCS 49
Colton Venner, Keene 46
John Doyle, West 40
(Continued on Next Page)
Prev Next
Vote on this Story by clicking on the Icon