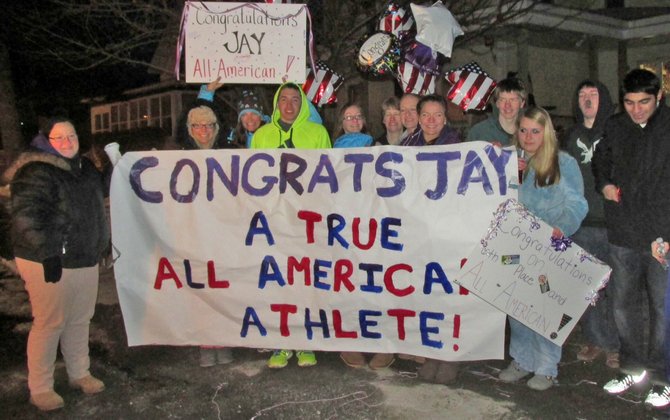 Ticonderoga — Jay Hebert is an All American.
The Ticonderoga athlete earned that honor with a sixth place finish in the 60-meter hurdles at the New Balance National Indoor Track & Field Championships in New York City March 16. The top six runners were named All-American.
Hebert clocked 8.04 seconds in the final. Isaiah Moore of Burlington. N.C., won the race in 7.79 with Grant Holloway of Chesapeake, Va., second in 7.93 and D-Ante Yarborough of Ashburn, Va., third in 7.95.
Hebert's accomplishment was watched via internet in Ticonderoga and supporters rallied at his home that night as he returned from the meet. About a dozen people with signs waited in the cold to welcome home the town's most-decorated athlete.
"It was overwhelming to come home to that," Hebert said. "It really showed the community spirit and the support I've received from everyone. It was great."
Two weeks ago Hebert won his fourth straight hurdles state championship, taking the 55-meter event. He won the 110-meter hurdles at the outdoor championships in 2012, then captured the 55-meter hurdles indoors and the 110 hurdles outdoors in 2013.
Earning All-American status had been a goal for Hebert.
"That (All American) was the goal all year," Hebert said. "It's something I really wanted to do. When I came across the fifth (final) hurdle I powered through the finish line and looked at the scoreboard. When I saw my name there I was really happy."
Hebert was the top finisher from the north, where athletes are forced to train inside during the winter. Ticonderoga doesn't have an indoor track, which means Hebert does his workouts in a school hallway.
In the process of reaching the championship race Hebert set a Section VII record for the event. He ran 7.86 seconds in the semifinal round.
"Jay accomplish two of his goals today," Walt Thorne, Ti High track coach, said. "He finished in sixth place to become an a New Balance National All American Athlete. He also set a season best and sectional record of 7.86 in the 60-meter hurdles in the semifinals.
(Continued on Next Page)
Prev Next
Vote on this Story by clicking on the Icon