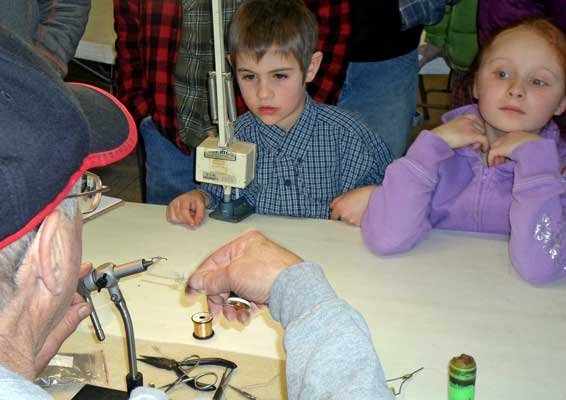 Five of Trout Unlimited's Lake Champlain Chapter members, myself included, donated our time to help pass down the magic of fly fishing and fly tying to a young generation of 4H students this past Saturday at the Cooperative Extension building in Westport NY. The 4H class expressed an interest in learning about fly fishing and Trout Unlimited answered the call.
T.U's Chapter president Derrick Miller opened the show, explaining the philosophy of Trout Unlimited, which is to protect and conserve cold water fisheries. Derrick discussed native species such as Brook trout and Atlantic salmon and their cold water habitats. He also explained some stream ecology and the past threats to the fishery like dams and how they stop the movement or passage of aquatic species. Derrick, dressed in fly fishing attire, with waders, rod and reel in hand, kept things interesting to the young crowd. He also kept the kids smiling, especially after donning his self proclaimed, nerdy, white, wide brimmed fishing hat he wears.

The Kids Guide to Fly Fishing movie was then shown. The star of the movie was a young man named Tyler Befus who explained the ins and outs of vests, waders, fly rods and reels and other equipment. He then showed how to tie a San Juan worm fly, this lead to an on stream discussion of pools, riffles, and pocket water. Tyler then finished the presentation with a demonstration of how to fly fish on a western trout stream.
Jan Opel, TU's local regional representative, had a slide show of women fly fishers and various streams throughout the country where they fish. Jan explained that one goal of Trout Unlimited was to encourage more women to take up the art of fly fishing and to promote them to get more involved with cold water conservation efforts. She also mentioned that this spring there will be a Woman's Fly fishing clinic. Trout Unlimited will make that announcement once the dates are set.
(Continued on Next Page)
Prev Next
Vote on this Story by clicking on the Icon