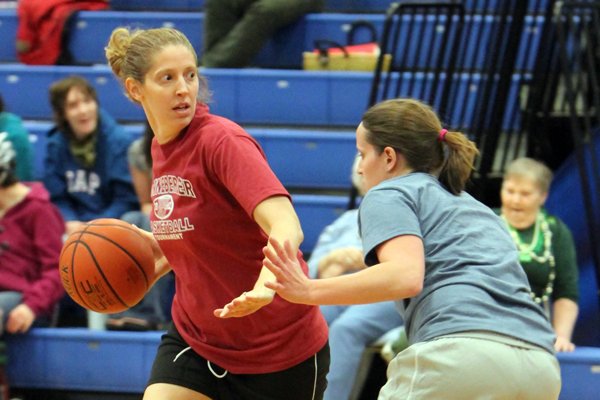 Westport — For the 35 years following the death of Westport native Dr. Thomas Tanneberger, community and alumni have returned to the Eagles homecourt to pay tribute to him through basketball and fundraising.
The 35th Annual Dr. Thomas Tanneberger Alumni Basketball Tournament will take place Saturday, March 15, with games starting at 1 p.m. featuring teams comprised of alumni from the school.
Carol Schwoebel, Tanneberger's sister, and her husband Jeff have been working as tournament organizers for many of the 35 years and are joined on the Tanneberger Scholarship board by Jim Forcier, Pete Frisbie, Michael Tyler and William McHone.
"It's an incredible feeling knowing how the community has supported the scholarship efforts started by Tom's friends 35 years ago," Carol said. "The tournament started as a way to honor Tom, his spirit and love of athletics, academics and community. The annual alumni basketball and golf tournaments have been a perfect way to reach out to others in Tom's honor while supporting scholarship efforts."
Alumni participating in the tournament are asked to sign in by noon March 15. There will be sign-in during an open gym for alumni players at the school from 7 to 9 p.m. Friday evening, March 14.
Alumni players are asked to register by calling the Schwoebel's at 962-8567 or online at Tanneberger.com. A $25 registration fee includes a t-shirt and gathering for two after the event.
"Early on, I enjoyed watching Westport Alumni 'come back home' to play basketball," Schwoebel said. "The camaraderie was so fun. I most enjoyed hearing the fun stories told about Tom by his friends, acquaintances, and teammates who new him. Those stories have dwindled, but the camaraderie and fun competition remains strong. Now, I love seeing the family reunions. Kids come home to play and mothers and fathers join them on the court. Alumni players bring their younger children who join in with the biddy basketball players. It has become the strongest alumni connection for Westport Central School. I am honored to be able to be a part of it all."
(Continued on Next Page)
Prev Next
Vote on this Story by clicking on the Icon