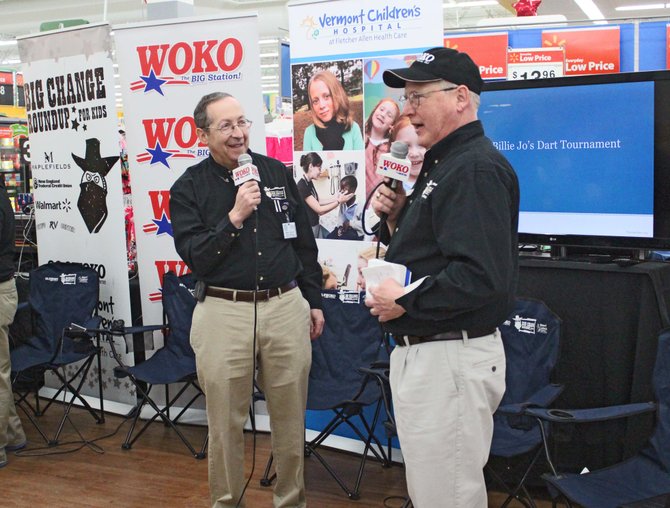 Plattsburgh — WOKO's Big Change Roundup crew brought their whirlwind tour of the North Country to Plattsburgh March 8.
Broadcasting from inside the Plattsburgh Wal-Mart; C.K. Coin, Thom Richards, Steve Pelkey and a host of WOKO stalwarts were on hand to raise money for the Vermont Children's Hospital at Fletcher Allen. From loose change in someone's pocket to donations that had been collected for weeks, several tables of change counters were a constant jingle of donations being counted for the cause. "We always do well in Plattsburgh," said WOKO Operations Manager Steve Pelkey, who ran the mixing board and rallied the crowd while the D.Js. broadcast live. "It looks like it's going to be a record year for us. There's always strong turnout in Plattsburgh."
Pelkey says that the record turnout at Plattsburgh was helped by a single donation of $13,400 from Billie Jo Branham, of Plattsburgh based Branham racing. Along with that donation, he said that the Plattsburgh Wal-Mart was on track to bring in another $13,000, $8,000 of which had been collected by one associate working the door at Wal-Mart for the past several weeks leading to the WOKO visit.
Dr. Lewis First, Chief of Pediatrics at Vermont Children's Hospital, reflected on what the donations mean to the children from around our area who are treated at the hospital.
"The change we have been raising over the years, there isn't a child over the years who hasn't been touched by the change we've raised," he said. "For me, I can't think of a better way to be first with kids.
First says that statistics show that the average household, including cars, has an average of $94 in loose change laying around. The Big Change Roundup hopes to tap into that change, a dime at a time, to raise money for the Children's Hospital.
(Continued on Next Page)
Prev Next
Vote on this Story by clicking on the Icon