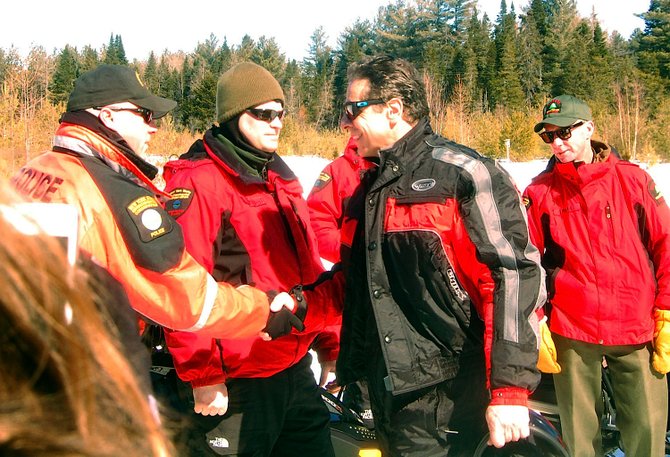 continued — Prior to climbing on board the second in a long line of awaiting snowmobiles manned by club representatives from across the region, Cuomo appeared to take a deep interest in the mechanics of the machine, spending several minutes examining the controls and other features with a fellow rider before taking off in a puff of white powder.
In town
As Cuomo sped off in the convoy, local lawmakers faced off in the much-touted intra-county race down the Mt. Van Hoevenberg bobsled run.
Members of the press were not there, but Essex County officials, including District Attorney Kristy Sprague, Keene Supervisor Bill Ferebee, Essex County Sheriff Richard Cutting and Wilmington Supervisor Randy Preston, reportedly navigated the track like champs.
"I was afraid I was going to cry like a baby," said Sprague, "but I had a really great time."
"I skied this morning and felt pretty good," said Preston, "so I was prepared."
Representatives from the Olympic Regional Development Agency (ORDA), the state agency that manages the Olympic facilities in the towns of Wilmington and North Elba, took reporters on a 60-mile-per-hour thrill ride down the bobsled track with state Assemblyman Charles Lavine (13th District) while Olympians, including US skeleton bronze medalist Kyle Tress, looked on below and mingled with the public.
"Absolutely incredible," said Lavine, who represents communities in Nassau County.
Lavine said he looks forward to telling his constituents more about the North Country and appeared downright gleeful as he took a stroll with this reporter down Lake Placid's main drag.
"I'm going to tell everyone about this," he said. "What a great area."
Assemblyman J. Gary Pretlow (89th, Mount Vernon) said his experience was "enlightening" and asked what he estimated was 10 percent of the state assembly gathered in the town to take an informal pledge to tell at least 10 people they knew about the North Country.
Vote on this Story by clicking on the Icon