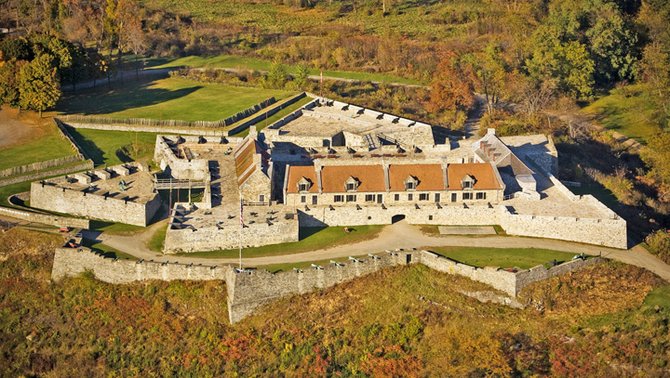 Ticonderoga — Visitors will have an opportunity to travel back in time to March 1776 during a living history event at Fort Ticonderoga.
"Ordered to Join the Northern Army in Canada" will be held Saturday and Sunday, March 15-16, at the fortress 10 a.m. to 4 p.m.
The cost is $10 a person. Friends of Fort Ticonderoga and children 4 years old and younger are free.
"As Fort Ticonderoga begins to tell the epic story of 1776 during the 2014 season, guests to this living history event are asked to join the reinforcements headed for northern forts and Canada and face this military crisis with them," Beth Hill, Fort Ticonderoga president and CEO, said. "Stand inside the parade of the fort as New York soldiers, re-enlisted veterans from 1775 and new recruits, drill to defend this vital link in the supply chain. Hear leather heels strike the ground as they march in step.
"Thrill at the crack of their firelocks as they fire volleys," she said. "Watch the carpenters hard at work as they turn logs and lumber into crates, sleds, and beams. Explore Fort Ticonderoga as it comes to life with the struggle to keep an American army alive in March of 1776."
There will be a number of special events and activities during the weekend.
"For the freezing, sick and starving American soldiers living in houses and barns outside the walls of Quebec in early 1776, hope lay just to the south at Fort Ticonderoga, an old French fort on Lake Champlain," Stuart Lilie, Fort Ticonderoga director of interpretation said. "The lives of American soldiers and the campaign to capture Canada were in jeopardy. Unlike the persistent snow and ice in Canada, the Continental Army's solders were melting away from disease, injury and expiring enlistments.
"In the depth of the winter teams of oxen and horses dragged sleds on frozen rivers and lakes along the chain of forts from Albany all the way to Quebec," he said. "Filled with food, winter clothing, and medicine, the contents of each sled were vital to keep the remaining American soldiers alive. Warm weather and cracking ice threatened to shatter the Army."
(Continued on Next Page)
Prev Next
Vote on this Story by clicking on the Icon