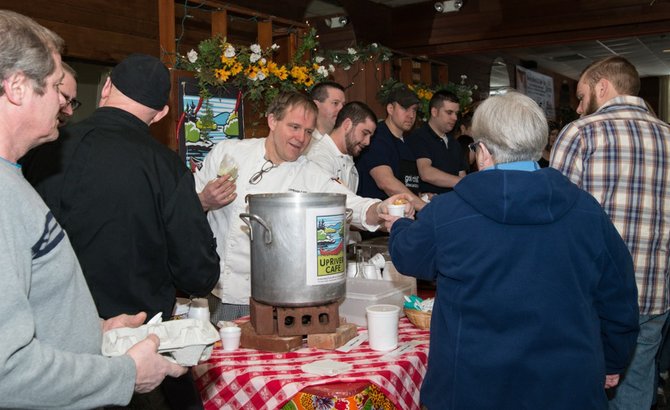 LAKE GEORGE — Dozens of people gyrated to the throbbing beat of a rock band playing a few feet away onstage, while hundreds of others surrounded the dance floor, watching or socializing as they sampled chili and drank beer.
Condensed moisture ran down the fogged windows at Roaring Brook Ranch Resort, a result of the body heat of the crowd as well as steam from about two dozen huge pots of chili.
Such was the scene Sunday March 2 at the 23rd annual Bands N'Beans fest, a fundraiser for the Lake George Arts Project that's no less than legendary for welcoming spring to the North Country.
George Greene, President of Roaring Brook, stood in the hallway of his resort and glanced into the massive banquet room where most of the crowd was hanging out. People were four deep at the bar not far away.
"What a crowd," he said. "You couldn't find a place to stand in there."
Nearby, Vernon Fuss, vocalist for the band Dirt Cheap, leaned against a pool table in the musician's lounge — waiting to go onstage as another band performed to a pumped-up crowd.
"This is electric," Fuss said, noting that the band has performed at Bands 'N Beans for five or six years, and this year's crowd is one of the largest and most enthusiastic ever. "We always look forward to this party — it's one of our best gigs of the year."
Dirt Cheap bassist Steve Hymowech interjected his thoughts.
"And we don't get paid for this performance — This shows just how much fun it is!" Hymowech said. "Bands always want to play this gig."
Fuss said that musicians and artists were like a community, looking out for one another.
"Performing to raise money for the Lake George Arts Project helps perpetuate the arts, so it helps us too," he said.
(Continued on Next Page)
Prev Next
Vote on this Story by clicking on the Icon