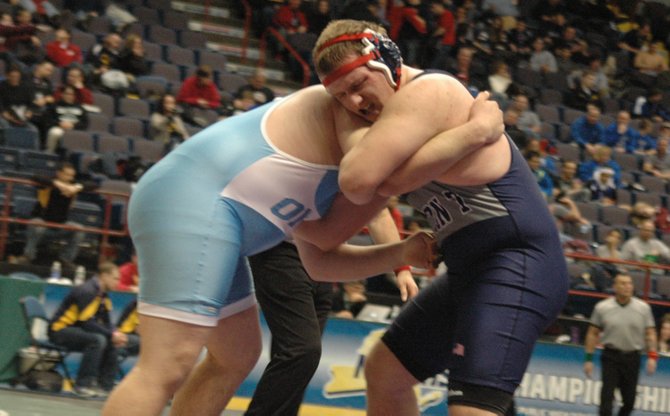 ALBANY — For AuSable Valley wrestlers Dylan Baker and Kenny Rivers, the NYSPHSAA state wrestling tournament Feb. 28 will be chalked up as a learning experience.
The two Patriot wrestlers failed to advance in their respective weight classes (120 for Baker, 285 for Rivers) in either the championship or consolation brackets, but both gained experience that may help the underclassmen in a potential 2015 appearance.
"I knew that I was going to see some tough matches," said Baker, who was pinned by state runner-up and former champion Luis Weierbach in his opening match while being pinned by Joe Dillon in the consolation round.
"I have been watching this tournament forever and wanted to know what it was like to be down on those mats," Baker added. "I need to get stronger and get better cardio so I can make it back here next year."
Rivers was pinned in the opening round of the heavyweight tournament by Marcus Ramundo, who finished in fifth at the event, before dropping a tough, 5-4 decision to Anthony DiNardo in the consolation round.
"I think the physical wreslting was surprising to both of them," Patriots head coach Kenny Baker said after the matches. "They were able to come here and get experience and know what its like, and that can motivate you to get back next year and do something."
"Going 0-2 will hurt but the experience will put a little fire into both of them," coach DJ Barber said. "It was a great experience that they had throughout the year and what they do in the offseason will be key."
Swimming
Gavin Friedrich of AuSable Valley was unable to advance past the preliminary rounds of the NYSPHSAA state swim meet in Webster March 1. Friedrich finished 53rd in the 200 freestyle with a time 2:01.06 and 50th in the 500 freestyle in 5:38.30.
(Continued on Next Page)
Prev Next
Vote on this Story by clicking on the Icon