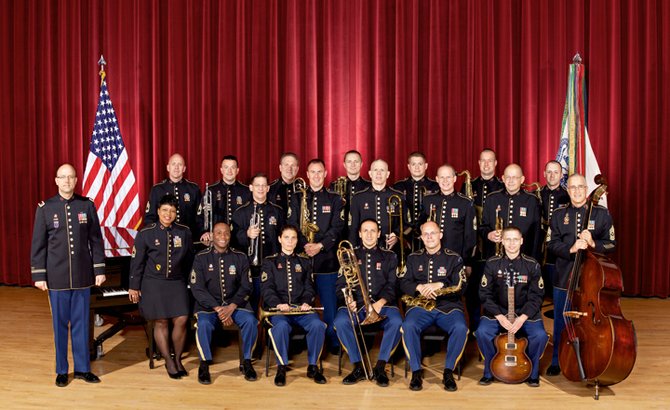 continued — The Jazz Ambassadors present a diverse program of big band swing, Latin music, contemporary jazz, popular tunes, standards, Dixieland and patriotic selections.
Members of the Jazz Ambassadors are selected by highly-competitive audition. Many members of the Jazz Ambassadors have extensive civilian performance experience. Alumni have gone on to careers in university teaching, studio recording and performance.
More than three decades of touring have earned them the title "The Musical Ambassadors of the Army."
The band is directed by Chief Warrant Officer William S. McCulloch. He enlisted in the Army in 1991 as a percussionist and was appointed as an Army Bandmaster in 2000. During his 20-year career, he has served tours with the 25th Infantry Division Band, Schofield Barracks, Hawaii; the 98th Army Band, Fort Rucker, Ala.; the 101st Airborne Division Band, Fort Campbell, Ky.; the 9th Army Band, Fort Wainwright, Alaska; the 10th Mountain Division Band at Fort Drum; and the 392nd Army Band, Fort Lee, Va.
He deployed with the 10th Mountain Division Band from 2008 to 2009 in support of Operation Iraqi Freedom.
Master Sergeant Marva J. Lewis is the vocalist with the Jazz Ambassadors. Originally from Denison, Texas, she attended Wiley College in Marshall, Texas, on a choir scholarship, graduating in 1988 with a bachelor's degree in business administration.
In 1989, Lewis joined the Army as a Petroleum Supply Specialist. During the Persian Gulf War from 1990–1991, she served three campaigns in Saudi Arabia with the 15th Forward Support Battalion, 1st Cavalry Division from Fort Hood, Texas.
After returning from the Middle East, she was reassigned to Camp Casey, Korea. While singing karaoke at a unit function, she was heard by the Republic of Korea head of Army Entertainment and recruited to tour throughout Korea. She was subsequently selected for the 1993 and 1994 Army Soldier Show, performing at more than 50 military installations throughout the United States, Panama, Puerto Rico, and Germany. She was chosen by the Sergeant Major of the Army to perform with the All Army Band at the 1994 opening of the Army's Shades of Green Hotel at Disney World, Orlando, Florida.
Later in 1994, she returned to Fort Hood, Texas, as vocalist with the 1st Cavalry Division Band. In December 1995, she was selected to be featured vocalist with the Jazz Knights of the United States Military Academy Band and reassigned to West Point. She joined the Jazz Ambassadors in September 1999.
Vote on this Story by clicking on the Icon