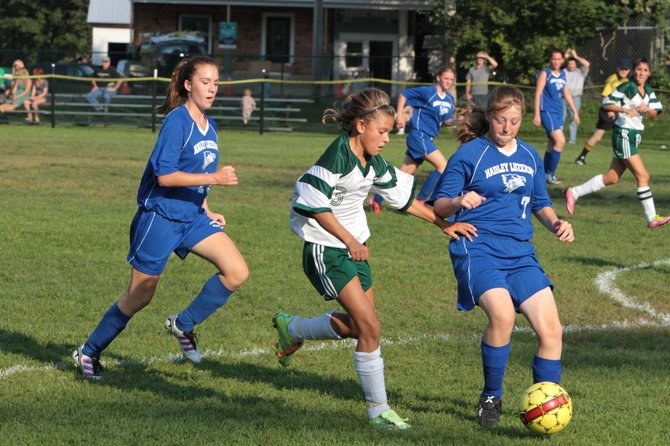 BOLTON LANDING — Local students may have an additional sports field by fall if negotiations are successful between Bolton Central school officials and the owner of a nearby plot of land, Superintendent of Schools Ray Ciccarelli said March 3.
The owner of the land — a plot of 7 to 8 acres off Horicon Avenue — made a preliminary proposal recently to a school board member for the sale or lease of the land to Bolton Central, he said. The plot of land, level and predominantly clear, is across Horicon Ave. and down the street a short distance from the school, he said.
Ciccerelli said the offer came as a surprise to the board, which has been pursuing efforts for more than a decade to obtain more land for sports and physical education purposes.
"This individual proposed an option the board of education never anticipated, and it came along at an opportune time," he said. Ciccarelli said he wasn't authorized to release the name of the land owner, a local contractor.
If negotiations are successful in obtaining the land at a reasonable cost, Ciccarelli said, the land will provide adequate room to more appropriately accommodate sports and physical education programs. Also, it will avoid an annual conversion of the existing sports field north of the school from a soccer field to a baseball field. It could also host community events as well as provide room for future campus expansion if needed, Ciccarelli added.
The existing sports field, along Lake Shore Drive, was upgraded last year in a project that included installing new drainage pipes to keep it from becoming swampy at times and to prevent it from heaving in frigid winter weather. The project, which cost about $300,000, also included levelling the surface, adding topsoil and planting sod.
The school board voted unanimously at a recent meeting to suspend plans to convert this field for the 2014 baseball season while it explores the option of acquiring the land off Horicon Avenue.
(Continued on Next Page)
Prev Next
Vote on this Story by clicking on the Icon