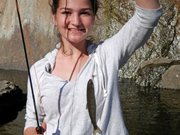 Every now and then, in the Adirondacks the stars, and the moon and the sky line up in just the perfect manner to provide a perfect end to a perfect day.

As woodland wanderers trudge back to camp tired and sore from the day's adventures,
The sky is cobalt blue, with puffy clouds puffy chasing across the far horizon and streaks of magenta sunset staining the late day horizon.
In camp, a fire snaps and crackles under a fresh load of cedar twigs, accompanied by the roar of dry birch logs.
The weather is fair, and a sweet, warm breeze riffles across the waters to chase away the late day punkies. Lighting bugs begin to glow in the nearby field, as the low who-who of an owl's note whispers from the woods.
Soon, a million stars appear to light up the evening sky and the full moon shines overhead. Crickets begin to chirp, while far off in the distance, a loon lets loose with a mournful tune. It echoes across rippling waters where dappled stars dance on the surface, and is chased back by the surrounding hills.
Such is camp life, where the sweetest sound is the giggling of kids nestled in their sleeping bags, attempting to drown out the roar of their father's incessant snore.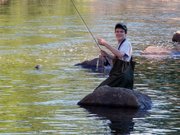 A child who has never experienced such joys, is surely missing out on one of the true joys of childhood; and any parent who fails to provide such experiences is missing out on some of the finest memories a family will ever share.
Camping is an activity that fosters cooperation and compassion. It can make men out of boys, and boys out of men, or women.
Fortunately, family camping has become much easier in recent years. There are numerous how-to manuals, and even self-erecting tents.
(Continued on Next Page)
Prev Next
Vote on this Story by clicking on the Icon