GLENS FALLS — Elise Stefanik has handily defeated Matt Doheny in securing the Republican nomination to replace outgoing Congressman Bill Owens (D-Plattsburgh) in the race for New York's 21st Congressional District.
If elected in November, she will be the youngest woman in history to be elected to the U.S. Congress. She is 29 years old.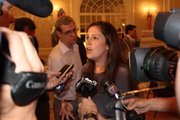 Once returns started coming in shortly after polls closed Tuesday night at 9 p.m. — data from polling places was zipped off to each county, verified by officials and uploaded onto their respective websites — Doheny, an investment banker from Watertown, never regained his footing.
Stefanik took an early lead over Doheny as returns from Fulton County started coming in at roughly a 2-to-1 clip.
St. Lawrence, Lewis, Essex, Clinton, Hamilton, Warren — even Jefferson, Doheny's home county — all went to Stefanik.
By 10:30 p.m, with 47 percent of precincts reporting, Stefanik led Doheny 60 to 40 percent, topping her opponent in each of the 12 counties constituting the district.
Doheny called Stefanik to concede at 10:33 p.m as AP results showed Stefanik with 11,019, or 60 percent, to Doheny's 7,339. Locally Stefanik bested Doheny 1,428 to 676 in Clinton County; 1,144 to 502 in Essex County; 794 to 311 in Franklin County; 309 to 239 in Hamilton County; 1,872 to 933 in Warren County and 1,745 to 1,056 in Saratoga County.
At about 11 p.m., Stefanik basked in adulation from her supporters gathered at the Queensbury Hotel in Glens Falls.
"You believed from the very beginning, that we deserve a representative in Washington with new ideas, fresh energy, and an independent approach in order to shake up a failed Washington," she said to the 120-or-so citizens at her election-night party. "We now have an opportunity to unite Republicans and Conservatives, which gives us the best chance to win back this seat in November."
(Continued on Next Page)
Prev Next
Vote on this Story by clicking on the Icon