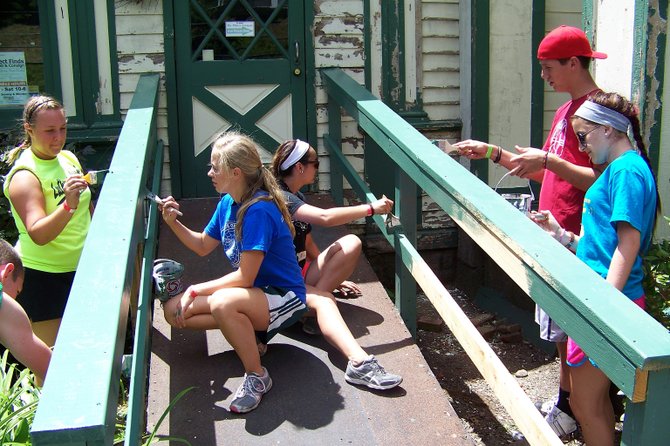 WARRENSBURG — Hundreds of teenagers from across the nation involved in the YouthWorks Christian mission outreach will be sprucing up homes and other buildings in northern Warren County this summer, and the organization is now seeking projects to undertake.
Day camp for children features games, Bible stories & crafts
Also, YouthWorks will be conducting a day camp from June 30 through July 31 for children ages 4 through 12. Camp sessions — featuring Bible stories, crafts and games — are to be held from 12:30 p.m. to 3 p.m. weekdays at Holy Cross Church on Main St. in Warrensburg. Children from all over northern Warren County are welcome.
The nationwide Christian organization YouthWorks, based in Minneapolis, will be sending about 60 teenagers each week over the summer for seven one-week mission trips as an outreach to help out those in need as well as provide recreational and spiritual enrichment opportunities, according to YouthWorks site coordinator Luke Rice.
The first mission group arrived Monday June 15, and their initial project was to clean up campsites and accomplish landscaping work at Jesus is Lord campground in Diamond Point.
The teens, from all over the nation, will be tackling some light fix-up, yard work and painting projects, while they experience the culture of the region, Rice said.
Elderly homeowners, or those of modest means or special needs, are encouraged to call YouthWorks' staffer Austin Morrow at (502) 593-5673 with potential projects.
The visiting teenagers will be spending nights in two local churches — the boys in tHoly Cross and the girls at First United Methodist Church in Warrensburg. The youths will be spending their days working, with time off for recreational pursuits, Rice said.
Some of the teens will be working on the home improvement projects, and others will be working at the Kids Club day camp under adult supervision, plus probably visiting residents of various nursing homes and adult care centers.
(Continued on Next Page)
Prev Next
Vote on this Story by clicking on the Icon