STONY CREEK — The Stony Creek Inn, an historic mountain-town bar and hotel that for more than three decades has been the area's landmark venue for alternative culture and rousing music, will be holding a fundraiser this weekend. The event will be featuring a lineup of renowned area bands.
The annual charity fundraiser, held by Dot Bartell and John Fickel — long-time proprietors of the Inn — is set for 1 p.m. to 5 p.m. Saturday June 14. Known as "Dot & Johnstock," the fest features live music, dancing, food, raffles, an auction and various other activities.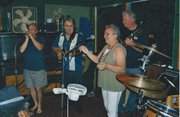 Money raised goes to two charities: the Southern Adirondack Musician's Fund — which helps local musicians through difficult times — and Cindy's Retreat, which offers getaways for people who are undergoing cancer treatment and their families.
The event reflects a sense of community among the Adirondack-area musicians and artists. The fest also celebrates the rural alternative culture that has flourished in the hills since the late 1970s — and has been a mainstay at the Stony Creek Inn over the decades that Bartell and Fickel have operated the inn.
The fundraiser was launched by friends of Bartell and Fickel in 2008 when they both were facing cancer treatments, and the fest was immensely successful. Since then, the duo — along with their friends and volunteers — have held the event annually, and it's yielded about $35,000 over the last six years for charity.
Musicians and bands from the region are to be performing all day long. Also featured at the event is an extensive silent auction with goods and services from area businesses and a selection of works created by area artists.
Featured performers include the Stony Creek Band — which has been performing at the Inn regularly since the mid-1970s — plus George Fletcher's 'Folding Money' Blues Band, Soul Sky with guitarist Mark Emanation, fiddler Nelson Rock, and Hank Soto & Johnny "Rockin'" Kribs, among others, Bartell said.
(Continued on Next Page)
Prev Next
Vote on this Story by clicking on the Icon