CHESTERTOWN — Larry Stephenson, CEO of Lincoln Logs and Stephenson Lumber, sat in a conference room at his firms' Chestertown headquarters, discussing with with U.S. Rep. Bill Owens the various challenges of conducting a business in the lower Adirondacks.
Owens was visiting Lincoln Logs, gathering information on the various concerns facing entrepreneurs in his 21st Congressional District.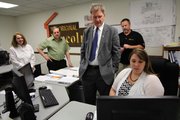 After a tour of the Lincoln Logs mill and one of Stephenson's three stores, Owens and Larry Stephenson talked about workforce readiness, foreign trade development, and the how the high cost of fuel inhibits product transportation.
"I have a lot of pride in keeping businesses active and employees at work in the Adirondacks," Stephenson said. "It's always been a goal of mine."
Stephenson Lumber has three stores, including one in Speculator and the other in Indian Lake — both in Hamilton County. Stephenson owns and operates Riverside Truss as well as The Original Lincoln Logs — which designs and manufactures log homes and panelized construction materials for commercial and residential use. Riverside Truss builds roof truss systems for homes and businesses throughout the Northeast, Stephenson noted.
"I love bringing outside money into the Adirondacks," he said, prompting Owens to say he understood how vital that was to the area's rural economy.
Stephenson mentioned his concern that many qualified potential employees in Hamilton County were leaving the area with the belief they could get a better job elsewhere.
Asking about Internet access in the communities where Stephenson's stores and mills are located, Owens noted that the growing work-at-home initiatives nationwide could potentially reverse that trend.
Stephenson responded that in Speculator, Internet access was limited, and might not be enhanced for at least several years.
Owens noted that in a visit earlier in the morning to the Darrin Freshwater Institute on Lake George, he had heard that lack of broadband was curtailing the transmission of data obtained in the Jefferson Project, a world-class research project into the lake's ecosystem. The project is a joint venture of Rensselaer Polytechnic Institute and IBM.
(Continued on Next Page)
Prev Next
Vote on this Story by clicking on the Icon