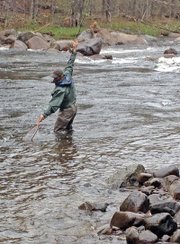 While I was pulling into the Mountain Brook Lodge in Wilmington, I couldn't help noticing all the license plates from various states. It is way too early for all the family tourists to be coming so they must be fly fishing folks I thought. The Two Fly Challenge was starting Friday, May 16 and the rod and reel, fly flicking guys where coming to the West Branch of the Ausable for a fishing rendezvous!
Normally I wouldn't be getting a room to go fishing as I live only an hour away, but with the festivities going into the night, I didn't want the hassle of driving back and forth from fishing and going to the nightly events and banquet. Besides my brother just celebrated his 60th, May 12th, so I got him registered for the Two Fly for his birthday. He is new to fly fishing and it's time to break him in, West Branch Ausable River Adirondack New York style of course, isn't that what brothers are for!
During the morning registration, everyone who had fished any other streams was required to dip their waders and boots into a solution that decontaminated the waders before fishing the Ausable. This would disinfect the waders from invasive species, especially didymo , which is also known as rock snot. In HAZMAT terminology it's called DECON!
The Two Fly, is a fishing challenge where only two flies of your choice are used each day for the two day contest. If you lose your flies, that day is over as far as the contest is concerned. You can still fish, but it doesn't count. Each participant is given a score card, and buddy up with a partner. They are on the honor system when they go fishing on the river. At the end of each day the fly fishing aficionados would turn in their cards with the type of fish caught and its length. The challenge ends the second day, and the total lengths for each entry are tallied.
(Continued on Next Page)
Prev Next
Vote on this Story by clicking on the Icon