LAKE GEORGE — The release Saturday of a U.S. soldier held captive for five years in Afghanistan was a welcome development — but more action should be taken to determine the fate of many other soldiers who are POWs or missing in action, a veterans' advocate told citizens at the POW/MIA service June 1 atop Prospect Mountain.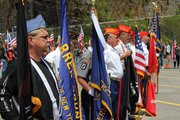 Don Amorosi, president of the Northeast POW/MIA Network and guest speaker for the 44th annual ceremony, talked about the controversial prisoner exchange — Army Sgt. Bowe Bergdahl of Idaho for five high-level Taliban officials held at Guantanamo Bay.
"Bowe Bergdahl is home because of people like you — average Americans," Amerosi said to those attending the POW/MIA ceremony.
Amorosi, a Navy veteran, continued that politicians will be attempting to take credit for his release, but it was actually due to citizens across the nation lobbying on his behalf, he said.
Amorosi blasted the U.S. government, saying they had established a "horrendous practice" since World War II of abandoning their POWs and those missing in action.
"Our government let them go because is was more expedient — They weren't willing to fight for a few thousand Americans who sacrificed so much for their nation," he said. "One American in the hands of the enemy is one too many."
Amorosi said Bergdahl's return should be celebrated, and that he was offended that some have called the prisoner exchange a raw deal.
"You should be very proud of anything you may have done," he told the assembled citizens, including many motorcyclists. I hope we establish a consciousness that any man or woman in uniform is never deemed expendable."
Veterans' organizations from Warrensburg, Lake George, Chestertown, Glens Falls, Indian Lake and Queensbury at the ceremony were augmented by other groups from as far away as Broadalbin and Schenectady.
Warren County American Legion Commander Gene Pierce of Warrensburg, organizer and emcee of the event, took a new course for this 44th edition of the POW/MIA ceremony.
(Continued on Next Page)
Prev Next
Vote on this Story by clicking on the Icon