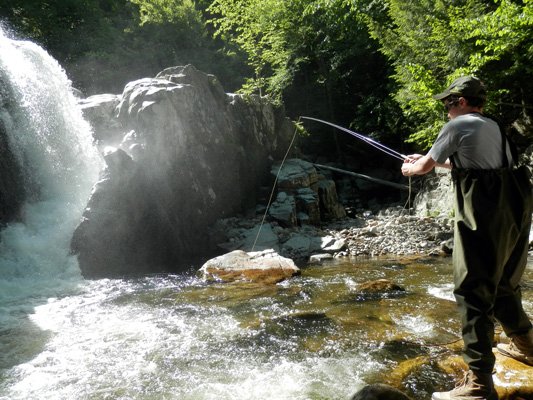 After a few months of skipping out on providing my regular weekly columns, I am finally back on track. I wasn't goofing off, as most would expect of me, I was attending to family matters.
I appreciate all of the cards, letters and emails from old friends, new friends and other friends of my brother's who took the time to write, call and email to share their stories of his adventures with me.
Following his recent passing, I've been spending a majority of my time in the woods and on the waters, where fish have been biting as regularly as the deer flies and the punkies that seem to constantly orbit my noggin.
The local woods and waters are certainly a therapeutic environment. I guess it is because it's easy to forget your troubles when there is so much activity constantly going on all around you.
There's nothing more reassuring than watching a stunning sunset, as it dresses up the mountainside with a warm alpen-glow, to confirm there is something much grander when we finally go off to the great beyond. I've heard it described as God's Country
I've often noticed it, but I guess I appreciate it more now than ever, "Up in the mountains, so still it make you scared; where God lies waiting in his great white beard."

Orson "Old Mountain" Phelps, a legendary Adirondack guide who hailed from Keene Valley explained the unique spiritual presence of the mountains when he explained the local scenery to Charles Dudley Warner, "It seems as if, .. as if the Creator had kept something just to look at himself."
Although I know I'll never see my brother tromping through the local woods again; they will always look the same as they were when he was with us, and that's familiar enough for me.
(Continued on Next Page)
Prev Next
Vote on this Story by clicking on the Icon