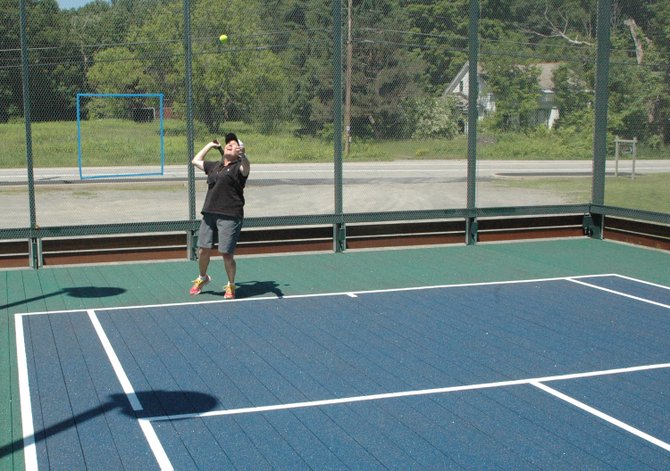 Ticonderoga — One of the newest businesses in town will provide a lifestyle sport for all ages as well as giving back to the youth of the community.
Northern Lake George Paddle, located next to Eddie's Restaurant between Ticonderoga and Hague, will host a Family Fun Day event from 9 to 11 a.m., opening to the public to offer free instruction and play with Patty Hogan, six-time national champion and member of the APTA Platform Tennis Hall of Fame.
"I've been in the profession for almost 30 years as a teaching professional and playing tennis and platform tennis," Hogan said. "I really was looking for an adult sport that I could go play and have fun. I am a big proponent of sports and play for kids and adults."
Two paddle, or platform, tennis courts have been created on the site. The sport is played on a smaller court than regular tennis, but also allows for the use of side fences in placing shots.
"Points can go on for several minutes at a time," Hogan said. "You need to be thinking ahead and strategy comes into play."
Along with her honors on the court, Hogan has helped run the junior national championships for the past 10 years and has coached 27 junior national champions.
Northern Lake George Paddle has been set up to help support local youth organizations, pairing with the Ticonderoga Revitalization Alliance.
"We were thinking about something that we could give to this community," Hogan said. "I am donating my time to make this work. My years as one of the first year-round teaching professionals and through all I have accomplished in the sport it gives me the ability to give back to the community. We have committed our business profits to helping the youth programs in Ticonderoga."
Hogan and others helped to create the new platform tennis courts as part of a community build.
(Continued on Next Page)
Prev Next
Vote on this Story by clicking on the Icon