WARRENSBURG — With more than 1,000 eyes zeroed in on her during her school's graduation ceremonies, Warrensburg High School Valedictorian Danielle Thomas stood at a lectern and gazed at her 62 classmates.
"Whether you take a path to higher education, jump straight into a career or join the military, each direction opens up a whole new domain of people, learning, experience and discovery," she said. "We have the entire world at our feet."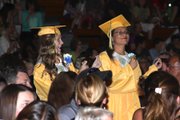 Warrensburg Central's commencement exercises, held Friday June 27, were filled with descriptions of the exceptional talents of the students of the Class of 2014, with praises voiced for their academic, athletic and artistic accomplishments as well as their buoyant spirit.
Although the school's Class of 2012 was identified two years ago as the most outstanding academically in the school's recent history, the Class of 2014 had this week won considerable fame for the school, achieving the highest average S.A.T. test scores of any of the 83 schools in the Capital District. The news had just been released a day earlier, Aubrey Corriveau noted in her speech as the class of 2014's High Honor Student.
She credited the faculty and staff for their support.
"Our teachers go above and beyond to help us succeed and they have a true passion for what they do," she said. "It is rare to find a school where a student can play three sports, have a role in the school musical, be on the debate team, and stay on the High Honor roll."
"Our school is where artists and athletes mix," she added. "Warrensburg keeps us versatile and connects us to each other."
Thomas also praised the school's support, noting that Warrensburg Central provided a close-knit community.
"I am forever grateful to the teachers and administration for allowing us to work to our highest potential, and to our families for their constant support and caring."
(Continued on Next Page)
Prev Next
Vote on this Story by clicking on the Icon