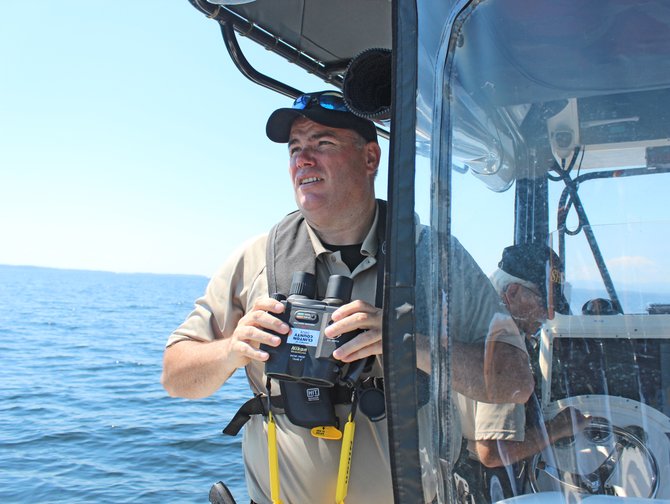 Plattsburgh — Twin Mercury 150 motors rumbled to life, and the 25 foot patrol boat slipped from its berth past millions of dollars worth of sail boats and cabin cruisers, out onto the big lake.
Laws don't stop at the water's edge. Thanks to the Clinton County Sheriff's Department's Marine Enforcement Division, neither does enforcement.
According to Deputy Jamie Head, though far from enforcement for enforcement's sake, the primary mission of the boat patrol is safety and education for boaters.
Head captains one of three boats the Sheriff's Department employs to patrol the Clinton County portion of Lake Champlain, where the lake is at its widest expanse. They also have a back-up boat and two personal watercraft, commonly known as jet skis, to patrol smaller waterways like Chazy Lake.
"We go out on patrol, just like you would in a car," Head said. "We're not looking to harass people on the water, only those people who are violating the rules and laws. We're here to keep people safe while they're having fun."
Discreetly stowed around the tiny McKee Craft is communication equipment to talk to the other department boats, county dispatchers, State Police, U.S. Coast Guard, Border Patrol and Customs, as well as equipment like RADAR, Forward Looking Infrared (FLIR), underwater cameras and even fire fighting equipment.


"We're probably one of the best equipped marine patrols in the state. We're stacked."
While patrolling around Valcour Island the Coast Guard radio crackles to life with a disembodied "Pon pon, pon pon, pon pon," Coast Guard speak for an important message is coming. The dispatch advises Head and his partner, Special Deputy Mike Stephenson, of an unmanned Zodiac craft found drifting south of Rouses Point. That, Head said, could mean simply that the boat broke loose from its mooring, or it could mean that there is a boater in the cold Lake Champlain water.
(Continued on Next Page)
Prev Next
Vote on this Story by clicking on the Icon